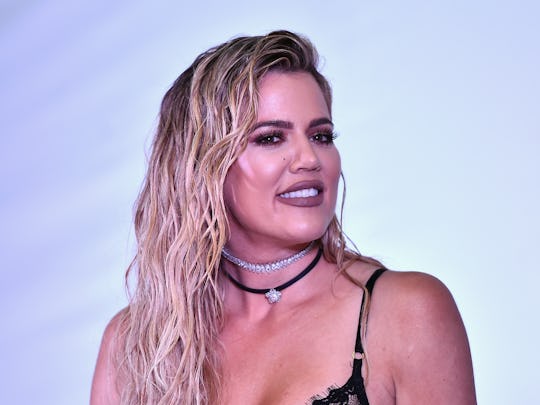 Alberto E. Rodriguez/Getty Images Entertainment/Getty Images
Khloe Kardashian's Latest Photo Has Fans *Convinced* They Know The Sex Of Her Rumored Baby
Fans of Keeping Up with the Kardashians have been on an all-out bump watch since September, when news broke of an alleged baby boom in the family. From scrutinizing every social media post, to zooming into photos of her belly, to reading into everything she says and types, the world is still waiting for the reality star to confirm the big news herself. And her most recent Instagram post on Saturday is no exception. That's because Khloe Kardashian's latest photo has fans convinced they know the sex of her rumored baby. And if they're correct, that means she's having a baby girl!
On Saturday evening, Kardashian posted a seemingly innocent photo of pink roses. Other than the gorgeous arrangement, the star shared nothing more than an emoji of two pink hearts. I'd say there's basically two options, here: Either she's bragging about a recent floral gift from her boyfriend, or this is a not-so-subtle hint about the sex of her alleged baby.
Unsurprisingly, it took exactly 5 seconds for followers to freak out by drawing the "obvious" conclusion and offering up pink heart emojis of their own. "It's a girl y'all," one of the first few followers to comment pointed out. Another chimed in with, "She's having a baby girl." And still another follower wrote, "I'm guessing it's official and it's a girl."
If the pink roses really do mean Kardashian is pregnant with a baby girl, that would prove all of the previous "reports" wrong. Us Weekly, for example, reported in October that the reality star was expecting a baby boy with her professional basketball player boyfriend, Tristan Thompson. People also reported that "multiple sources" had confirmed Kardashian would be welcoming a son. Hmmm. Now I don't know what to believe. Especially since this isn't the first photo of flowers Khloe has posted on Instagram.
On Nov. 9, Kardashian shared this shot of peonies with her Instagram followers.
And on Oct. 28, she posted a photo of white roses.
Here are some cabbage roses from Oct. 15.
And all the way back on Oct. 6, Khloe posted a different pink floral photo, which elicited a similar response. "Does this mean you're having a girl?" one follower commented. "Congratulations Khloe! So happy for you!" another commenter wrote, with a pink heart.
So maybe Khloe just has a passion for flowers, after all? Ugh, I swear the Kardashian-Jenner sisters must sit around together cackling while thinking up ways to mess with the media and fans. Because honestly, it seems like Khloe took a page out of her sister's "not-confirming-or-denying-anything" book of pranks. Kardashian's maybe-pregnant sister, Kylie Jenner, stirred up speculation in September when she posted a photo of three iPhone cases on Snapchat. Two of the cases from The Kylie Shop were pink and one was blue. She cryptically wrote, "Which one? I'm thinking blue..." also adding a blue heart emoji. I mean, what level-headed fan wouldn't jump to conclusions with a social media post like this?
Let's just pretend for a moment that Khloe Kardashian is having a baby girl. Kim Kardashian and Kanye West are also expecting a daughter via surrogate in a few months, as Kim accidentally revealed on The Ellen DeGeneres show. And as TMZ reported in September — when the site first broke the news about Kylie Jenner's alleged pregnancy — Kylie is also expecting a baby girl with her boyfriend, Travis Scott. How adorable would it be if all three Kardashian sisters are having baby girls?! It's decided; trio of Kardashian cousins all about the same age would be too cute to handle. Being so close in age (and being part of a pretty tight-knit family) the babies will likely have close relationships regardless of their sex. But still! I'm rooting for team pink all the way.