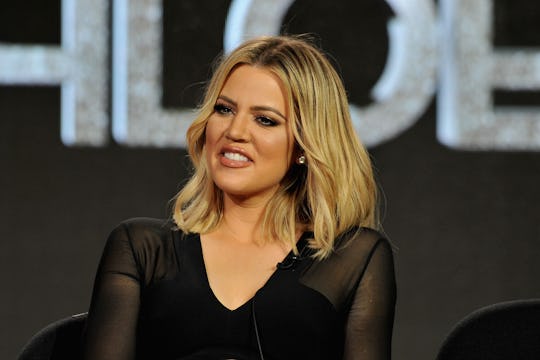 Jerod Harris/Getty Images Entertainment/Getty Images
Khloe Kardashian's Net Worth Proves The Reported Mom-To-Be Is Loaded
Not to be outdone by her little sister, news hit Tuesday night that Khloé Kardashian is reportedly expecting her first child with her boyfriend Tristan Thompson, according to exclusive, Us Weekly sources. The 33-year-old reality star has hosted a couple of TV shows and has had her fair share of brand deals over the years, proving that she'll be a hard-working mama. So what is Khloé Kardashian's net worth, exactly? According to estimates, her kid will definitely be in good hands. Romper has reached out to Kardashian's representatives for comment, but has not heard back at this time.
Forbes insists that the Kardashian women's net worth (with the Jenners included) sat at around $122.5 million from 2015 to 2016 alone. Through reality shows and their spin-offs, apps, make-up brands, clothing lines, and modeling contracts, the influencers haven't just made waves on social media — they've made a ridiculously lucrative business out of it. Khloé (who's technically the youngest of the Kardashian women) has made a name for herself with a couple of eponymous TV shows, appearances, and brand deals. All of this effort has yielded a net worth of about $40 million, according to CNN, and there's no stopping her now.
Sure, it's not Kim Kardashian's $175 million (yikes) or Kylie Jenner's $50 million (sorry, big sis), but in any other family, Khloé's net worth would be untouchable. The funny fit chick's boyfriend brings plenty to the table, too. Thompson — a power forward for the Cleveland Cavaliers — makes a pretty penny on and off the court. For this year's upcoming basketball season, he'll earn $16.4 million alone. With an $82 million contract, this couple has it made.
So have Khloé and the basketball pro been preparing their finances for their future family specifically? On Season 13's Keeping up with the Kardashians finale, Khloé shared that the two definitely want children together, revealing: "He wants to have, like, five or six kids with me, and that's lovely," according to Us Weekly.
Still, the two didn't appear to predict that this pregnancy would happen quite so soon, with Khloé admitting at the time that she was "on birth control" and saying: "It's really scary. It's like a really big step."
Regardless of the timing, the Kardashian-Thompson baby-to-be has a pretty sweet life ahead. In fact, 26-year-old Thompson is already a father as his ex-girlfriend Jordan Craig gave birth in December of 2016. And yes, this all went down while he was dating Khloé, in case you were wondering, as Khloé and Thompson have been together for about a year. Through it all, though, they stayed steadfast. The two first met on a group, blind date. They hit it off immediately and the rest, as they say, is history.
The Kardashian clan is growing, keen to welcome even more babies into the world. In case you've been under a rock recently (or have been hiding from every social media platform and tabloid ever), 20-year-old Kylie Jenner is reportedly pregnant, too. So, just like BFFs North and Penelope, Khloé Kardashian and Kylie Jenner's future kids will likely have a cousin close in age to play with. What an unstoppable empire that'll be; What are the chances that North and Saint West; Penelope, Reign, and Mason Disick, Dream Kardashian, and Khloé and Kylie's rumored additions will have an E! reality show of their own 15 years from now?
If these rumors are true, Khloé's going to be a hilarious, fun mom, affirmed by her status as a super cool aunt to her siblings' kids. Though she's yet to address all the pregnancy rumors head-on, I personally can't wait for that first, pregnancy bump bearing Instagram to hit; it might honestly break the Internet in an unprecedented fashion.
Watch Romper's new video series, Romper's Doula Diaries:
Check out the entire Romper's Doula Diaries series and other videos on Facebook and the Bustle app across Apple TV, Roku, and Amazon Fire TV.