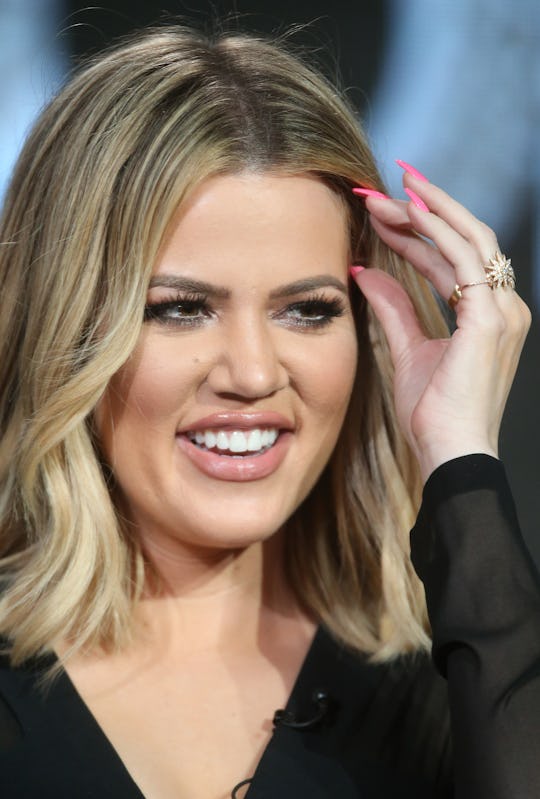 Frederick M. Brown/Getty Images Entertainment/Getty Images
Khloé Kardashian Is Rocking A Stunning New Ring Inspired By Baby True — PHOTO
Khloé Kardashian has been a mom for just three months, but it's clear that she's quickly getting the hang of things and is falling in love with motherhood every single day. After welcoming her daughter, True, in April with boyfriend, Tristan Thompson, Kardashian has shared the most loving updates about being a mom and life with her baby girl. And Khloé Kardashian's new ring inspired by True proves that she loves her daughter so much, she wants to bring a reminder of her baby girl with her everywhere she goes.
Since True's birth, over the course of the past few months, Kardashian has been taking to Snapchat and Instagram to share some of the sweetest moments with her daughter and peeks into her life as a mom. And her most recent Instagram post on Wednesday is a perfect example of this.
On her Instagram Story on July 18, Kardashian showed off her bright red nails and her gorgeous ring, that spells out "True" in the sparkliest diamonds, gifted to her by her best friend, Malika Haqq, according to Us Weekly. The ring looks so elegant wrapped around Kardashian's finger, stacked along with the other rings on her hand. It's that stunning.
But the ring is much more than a pretty accessory, especially since True's name has an extra special meaning to Kardashian. In May, Kardashian revealed in a post on her website that True is a family name with roots in her mom's side of the family, according to E! News. "I knew I wanted my baby to have a 'T' initial, so one night while we were all at dinner, thinking of some names, my grandmother MJ suggested True," Kardashian wrote. In that same post, Kardashian revealed that True was her great-grandfather's name and her grandfather's middle name on her mom's side and once she heard the name, it stuck with Kardashian, because it "was the only one" that she couldn't get out of her head throughout her entire pregnancy, according to Us Weekly.
So, not only does her new ring pay homage to her super adorable daughter, but it also allows her to be able to carry a piece of her family's history around with her wherever she goes.
But her ring wasn't the only thing she shared on her Instagram Story on Wednesday. In another post, Kardashian shared a video of baby True, looking so happy with the biggest smile on her face. I mean, just look at that grin and those happy cheeks!
Since moving back to Los Angeles from their temporary home in Cleveland, Ohio, where she gave birth to True, according to Entertainment Tonight, Kardashian has been learning to adjust to life now as a working mom. Kardashian revealed on her website that she had been nervous to go back to work, according to People, but returning was like "riding a bike" and spending time away from her daughter made seeing her even sweeter. Kardashian wrote, according to People:
On my first day back, True was perfect while I was gone. Plus, coming back home was soooo much fun — I acted like I hadn't seen her forever.
"But, I'm so fortunate and blessed that I have a job where I'm allowed to bring my daughter pretty often," Kardashian added, according to People.
But even on the days that Kardashian can't bring True to work, she will always be able to bring her along in spirit, thanks to that beautiful new ring on her finger.