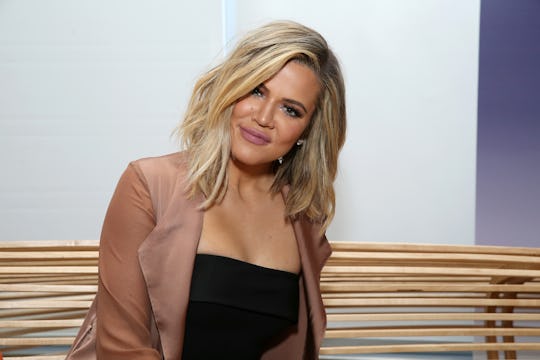 Cindy Ord/Getty Images Entertainment/Getty Images
Try Not To Say "Aww" While Watching Khloé Kardashian's New Video Of A Very Smiley True Thompson
It's been almost three months since the world got to meet Khloé Kardashian's daughter, True Thompson. Since her first photo hit everyone's newsfeeds, it's been so fun to see how the reality star's daughter is growing up and becoming her own little person. And over the weekend, the new mom blessed the world with even more adorable baby content and Khloe Kardashian's newest video of baby True really shows off the little girl's bubbly and charming personality.
Kardashian gave birth to baby True on April 12 in Cleveland, Ohio, where she was living with her boyfriend and father of her baby, Tristan Thompson. Last month, the family of three made the move to Kardashian's home in Los Angeles, and it seems like they're all settling in nicely. Really, every photo and video Kardashian has shared since then (and before) makes it clear that baby True seems happier than ever.
And on Saturday night, Kardashian shared a new video of baby True, who was just full of giggles. Showing fans a close-up of her baby girl's laughter and grinning face, Kardashian was heard on the video saying, "Hi Mama! Hi Mama! Oh, my happy girl. How's my happy girl?"
Baby True is beyond adorable in the video. And if you had any questions about how Kardashian is enjoying motherhood, well this video is just further proof that she is loving mom life.
What's more, her latest little glimpse into her life with True shows how happy both girls are. Seriously, did you hear that giggle? Despite being a new mom, Kardashian has adjusted quite smoothly into her new normal. In fact, in a May post to her blog, Khloé With A K, the 34-year-old revealed that she had found a new kind of boost to her days since having True.
"I think what surprises me most is no matter how tired you are, you find this energy and patience for your child," she wrote about her personal experience adapting to motherhood, according to Us Weekly. "You know that babies are so helpless and they rely on you for everything. So something just takes over and you find the energy to care for this helpless precious baby."
Kardashian is certainly a busy lady, too. She not only has been working out pretty rigorously following giving birth, but she's also running her clothing line, Good American, as well as taking care of baby True. So yeah... she's got a lot going on. But she's still finding the time to spend with True and truly bond with her daughter. Oh, and she's definitely taken to motherhood with as much devotion and heart as you would expect from her. As a source recently told Us Weekly, Kardashian "has always put family first, but having True has only solidified that for her." The source added that the new mom's "schedule revolves around True, and [she] doesn't want to miss a moment with her when she is awake."
Thankfully, she's sharing some of these special moments with her fans. Just last month, she shared this photo below of little True with cutest smirk on her face.
And in Kardashian's first selfie with True, she shared that they were enjoying to mama/daughter time. "Mommy's Little Love," she captioned it.
Being a mom is definitely something that seems to have come naturally to Kardashian, as her newest video of baby True shows. Just look at her photos, even without baby True, and you can tell she's beyond obsessed with her new title. On the below below, she simply captioned it. "True's Mom."
And in this photo with her sisters — Kim Kardashian and Kendall and Kylie Jenner — she wrote, "Three moms and a model."
Needless to say, Khloé Kardashian is so in love with her daughter and being a mom and True gets cuter and more personable every day.