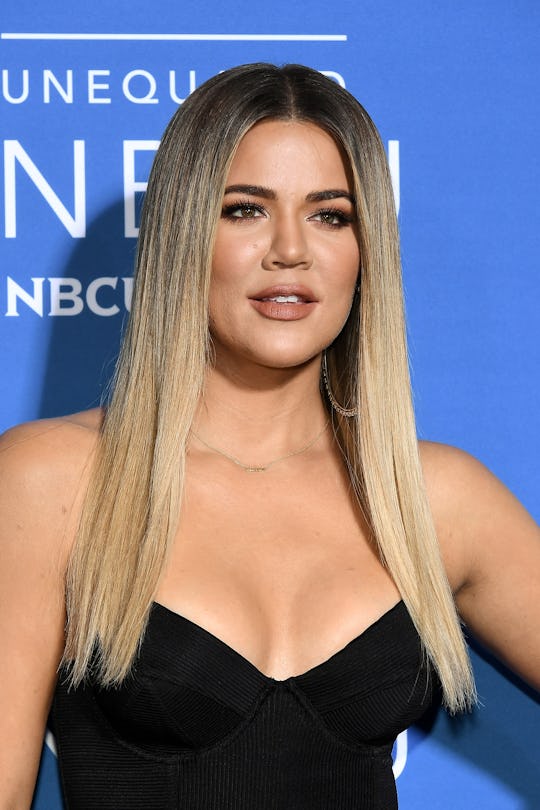 Dia Dipasupil/Getty Images Entertainment/Getty Images
​Khloé Kardashian Has An Adorable Nickname For Baby True, But Not Everyone Is A Fan
When it comes to nicknames parents and caregivers give to infants, there are some fairly common ones — pumpkin, sweetie, buddy, sis, baby cakes, peanut, etc. Because let's face it, calling a baby by his or her full first name all of the time can get boring. Plus, they're sooo cute, you practically want to kiss their cheeks all day long while sniffing their intoxicating baby scent. (Or is that just me?) So it's only a matter of time before the cutesy nicknames just start rolling off your tongue. To be honest, I rarely referred to my babies by their actual names, and it seems like I'm in good company because Khloé Kardashian does the same with baby True. However, it looks like Khloé Kardashian's nickname for baby True is eliciting some strong opinions on Twitter, even though it's quite adorable.
On Sunday, Aug. 19, Kardashian took to Twitter to share an update about her baby girl with her millions of followers. "Such a great day today!!! Took my little mama swimming today for the first time!! She LOVED it!" the Keeping Up with the Kardashians reality star tweeted. Sweet, right? While many fans commented how beneficial it can be to introduce children to the water at a young age, and others practically begged for photos and/or videos of their pool time, others honed in on another aspect of Kardashian's tweet: The fact that she referred to baby True as "mama."
One follower wrote, "Is calling your child mama an American thing? In Holland it's kinda weird."
Another person chimed in with, "I think it's weird too!"
Yet another one of Kardashian's Twitter followers wrote, "I don't understand, where did the "mama" thing come from? Why is that something mom's call their daughters?"
Another person attempted to explain the term of endearment's cultural background, writing, "It's something latina/black communities use to address their child or young ones..."
Still, plenty of followers came to Kardashian's defense.
Koko herself re-tweeted one of her follower's positive responses. The Twitter user wrote, "Yes in africa mothers call [their] lil daugthers mama it shows the love they have for them and how special they are."
To this, Kardashian wrote, "I looooove this!!! Thank you for sharing!! "
If you ask me, I think the fact that Kardashian calls her baby girl "mama" is simply adorable. It's not one of my go-to nicknames for baby girls, but I've never thought it was weird — or worth berating a parent over. (To each their own, right?) It's worth noting this isn't the only nickname Koko has used when referencing her daughter. As E! News reported, back in May, Kardashian tweeted, "I can't believe my baby will be a month old tomorrow why does this make me happy and sad all at the same time. Thank you Jesus for my sweet peanut." Peanut, mama — I think they're both equally cute.
As Us Weekly reported, Kardashian welcomed her first child with her boyfriend, NBA player Tristan Thompson, on April 12. (Which makes their daughter 4 months old already! Can you believe it?) Kardashian revealed in May the inspiration behind her daughter's actual first name, as TODAY reported. As unique/modern as the choice may seem, it's actually a family name. "Picking a name for your child is really so tough!" Kardashian wrote in a post on her app. "I knew I wanted my baby to have a 'T' initial, so one night while we were all at dinner, thinking of some names, my grandma MJ suggested True. She told me it was my great-grandfather's first name and my grandfather's middle name." She continued:
It stuck with me for my entire pregnancy and was the only one I couldn't get out of my head. I love that it's a family name and I can't wait to get back to LA so True can finally meet MJ in person!
When my third child was born, she had sooo many nicknames: Cheekies (because her cheeks were so irresistibly chubby), Gaily, Gaila, Bigail — none of which were her actual name. (Poor kid. I'm actually surprised she grew up knowing what her real name is.) And to this day, I mostly just call my second child "Banana," which rhymes with her actual name, at least.
So yeah, "mama" isn't even on my radar of "weird" nicknames. And even if it does seem a bit bizarre to some, they should consider keeping their unsolicited opinions to themselves. Because Khloé Kardashian receives enough flak about so much — and a cute, perfectly innocent baby nickname doesn't need to be one of them.