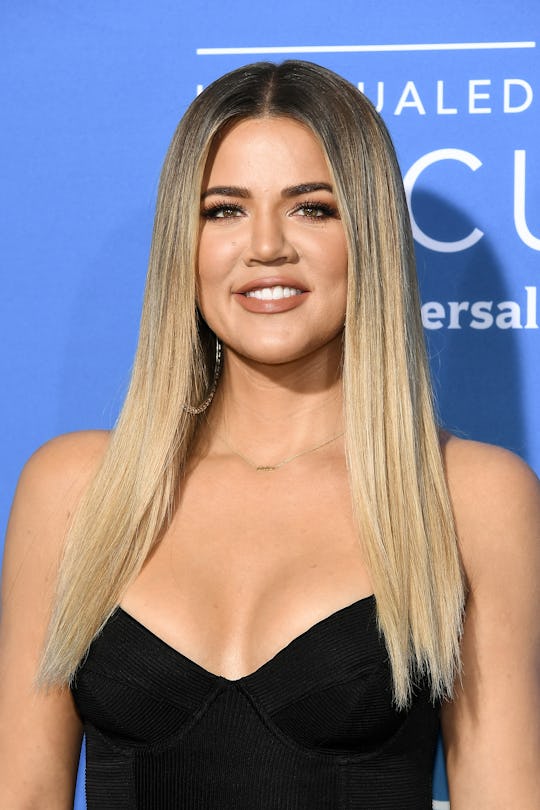 Dia Dipasupil/Getty Images Entertainment/Getty Images
Khloé Kardashian Set The Record Straight About Her "Pregnancy Lips" With This PSA
Keeping Up with the Kardashians fans should be grateful that Khloé Kardashian decided to share her pregnancy journey on the show. However, instead of thanking the reality star, some less thankful viewers have taken to criticizing her for part of her physical appearance this season. Specifically, people have posted on social media, theorizing that she cosmetically enhanced her lips during her pregnancy. Well, on Sunday, Khloe Kardashian responded to the haters with a PSA about her "pregnancy lips" while filming Keeping Up with the Kardashians, and it's an important reminder that no one should ever judge a woman's body, especially if she is pregnant.
Kardashian commented on the matter in a post on her Instagram Story on Sunday. "PSA I was pregnant during the entire season of KUWTK. Some women get 'pregnancy lips. I was one of them. So my lips look crazy and massive. Trust me I know and I HATED it!" she wrote in her Instagram story.
"A lot of wild s**t happens to your body and face while pregnant. It's out of our control," she continued. "Most people don't have to film during an entire pregnancy so just watch the show and be kind about my growing body and lips. Pregnant women should be off limits."
Pregnancy lips are a very real thing. "During pregnancy the action of hormones means that blood vessels dilate more which can mean that the body retains more fluid in the tissues during pregnancy," Gail Johnson, an education advisor at the Royal College of Midwives, told Made For Mums. "This is often most common in the lower limbs, but can also happen elsewhere for example the fingers, the face and sometimes the lips." Johnson also added that pregnancy lips are typically totally normal. "If this happens women should not be worried, as it will generally settle down by itself," she told Made For Mums.
Many other celebrities have made headlines for their pregnancy lips — including Kardashian's older sister Kim. In 2013, when she was pregnant with her first child, North, Kim tweeted about her pregnancy lips, the Daily Mail reported at the time. "My pregnancy lips are outta control #IGuessNotABadProblemToHave," Kim tweeted alongside a selfie of her pout, according to the outlet.
Additionally, in 2017, when Beyoncé was pregnant with her twins, a website called MediaTakeOut began a rumor that the expectant singer got lip injections, as Glamour reported. Her publicist Yvette Noel-Schure responded to the untrue rumor by publishing a fiery statement on Gossip Cop, which read:
What do you know about the effects of pregnancy on a woman's entire body? Please tell me. Did you know that in addition to weight gain there is often a dramatic change in the blood flow in the system and increased fluid, causing swelling? Do you know that often women's gums get swollen? Do you know that it sometimes affects our speech, our ability to chew intently and a host of other things? ... I stood silent during Beyonce's first pregnancy when you thought it was okay to bully her like the cowards you are, when you accused her of never being pregnant, but I simply cannot this time.
It's so unfortunate that people think it's OK to criticize pregnant women for their bodies. Hopefully Khloé Kardashian's Instagram post regarding the matter teaches a few trolls a lesson and just enjoys watching her pregnancy journey on KUWTK.