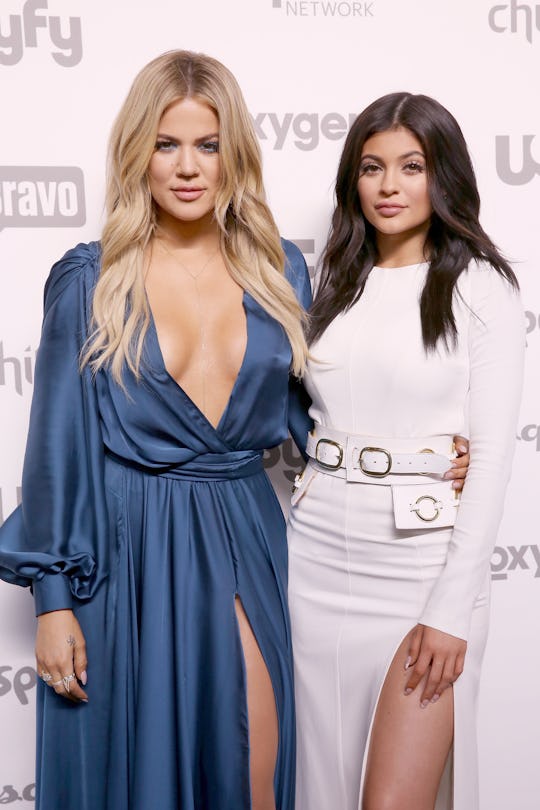 Robin Marchant/Getty Images Entertainment/Getty Images
Khloe Kardashian's Reaction To Kylie Jenner's Pregnancy Reveal Is So Freaking Sweet
Listen, I'm not even going to pretend like you don't know about the Kardashian-Jenner pregnancy-gate of 2017. Because now that all three of the expectant members of the family have announced their news in some way, it's safe to assume everyone is in the know. However, Khloe Kardashian's reaction to Kylie Jenner's baby is sweet, but of course it is. Really, though, these two sisters have always been pretty close, so the fact that they're going through this journey almost together isn't exactly a surprise. With Khloé's own pregnancy out in the open, the birth of Kylie's baby must be extra sweet.
As everyone will remember, Kylie's pregnancy was first announced back in September, and then Khloé's was revealed days later. And while it was a grueling three months before Khloé decided to finally announce and confirm her pregnancy on Instagram, Kylie made her fans wait until after giving birth. Kylie has finally had her daughter, and the internet is thrilled about it all. And what's more, Kylie's older sister, Khloé, has been totally supportive of her younger sister in her response to the birth of Kylie's baby, which is seriously amazing. Seriously, it must be pretty stressful and a little strange to be pregnant at the same time as one of your sisters, but the two are handling it with all the grace in the world. And honestly, what's better than becoming an aunt?
Swiftly after posting her message to her millions of fans, Khloé posted on Twitter the sweetest response for Kylie and others to see. She called her younger sister "Cute mommy," which I think everyone can agree is 100 percent accurate.
Every woman is obviously entitled to handle, announce, and deal with her own pregnancy in whatever way she sees to be fit. So, it's totally understandable that Kylie's birth announcement would differ from her big sister's. After all, they may both have been expecting their first child, but they're also both in completely different situations. Khloé has expressed her desire for a baby for years, now, and she and boyfriend Tristan Thompson have posted photos of each other on their social media pages regularly.
Kylie, on the other hand, is only 20 years old, compared to Khloé who is 33. Additionally, Kylie and her boyfriend, Travis Scott, haven't really even made their relationship Instagram official. As Refinery29 reports:
And, although rumors that they're dating have been swirling since April, neither Jenner nor Scott has ever officially confirmed their relationship status, with the exception of a few subtle Snaps. Just compare that to how utterly effusive Khloé Kardashian has been about her love for Thompson since they began dating.
So it's completely understandable that Kylie would choose to announce her pregnancy in a totally different manner than Khloé did — like by revealing her baby's birth.
Khloé's pregnancy announcement was, by all accounts, totally heartfelt. Alongside a photo of her growing stomach with Thompson's arms wrapped around her, Khloé wrote a caption that was practically a short novel, expressing her joy, gratitude, and excitement at being a mom.
My greatest dream realized! We are having a baby! I had been waiting and wondering but God had a plan all along. He knew what He was doing. I simply had to trust in Him and be patient. I still at times can't believe that our love created life!
Khloé also went on to mention all the people in her life that she was so thankful for, before explaining that she was well aware her fans had been anticipating an announcement for months, at that point. "I know we've been keeping this quiet," she wrote, "but we wanted to enjoy this between our family and close friends as long as we could privately. To enjoy our first precious moments just us."
And it seems as though Kylie was likely doing the exact same thing in her down time before her little one arrived. As she says in her announcement, she chose to not make this moment in her life something that the entire world did with her. And, honestly, you can't blame her.
But now, the wait is over — Kylie has finally informed fans of her pregnancy in the most Kardashian way possible — a huge surprise birth. And from Khloé's response, it seems as though the entire Kardashian-Jenner family is seriously so happy for the new mom.
Check out Romper's new video series, Romper's Doula Diaries:
Watch full episodes of Romper's Doula Diaries on Facebook Watch.