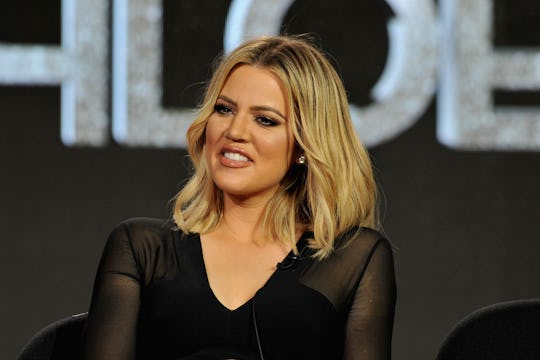 Jerod Harris/Getty Images Entertainment/Getty Images
Khloé Kardashian's Public Appearances Have Fans In A Bump Watch Frenzy
Fans of Keeping Up with the Kardashians have undoubtedly been on the lookout for any and all photos of the famous sisters following reports of multiple pregnancies in the family. Although neither sister has officially confirmed the buzz, both Khloé Kardashian and Kylie Jenner are reportedly expecting their first children — and the world is on an all-out bump watch frenzy. In fact, Khloé Kardashian's most recent public appearances have fans on high alert for the slightest hint of a bump.
Allegedly, Kardashian, 33, is expecting a baby boy with her professional basketball player boyfriend, Tristan Thompson. This huge news dropped on Sept. 26, right on the heels of reports of Kylie Jenner's baby news. But the real bump watch began at the end of October, after TMZ shared a photo of the maybe-mom-to-be out and about in New York City. "Khloe Kardashian's blouse buttons are working a little harder these days," the celebrity gossip website boldly declared. "Khloe was out in NYC Thursday morning looking fancy while Keeping Up with the Kardashians cameras rolled ... giving us our first look at her baby bump. See? She really is pregnant." Yeah, I'm not so sure about that. Here's a peek at the blouse that apparently is "working a little harder these days."
More recently, fans have noticed Kardashian's "bump" has someone managed to come and go. On Nov. 14, Kardashian was spotted supporting her big sis' Kim Kardashian with a noticeable bump. A private dinner was held in Los Angeles, in honor of the launch of Kim's new scent Crystal Gardenia by KKW Fragrance, reports Us Weekly. There, Khloé was photographed wearing a form-fitting black top, spandex shorts, fishnet stockings and black blazer. Except, a photo posted on Instagram by Khloé from Kim's baby shower only days before revealed no hint of a bump whatsoever, according to TMZ. "Cherry Blossoms and tea for Baby number three," she wrote, in reference to Kim's beautifully-themed party.
Yet, the mysterious disappearing bump magically reappeared, according to the publication. Also on Nov. 14, Khloé was photographed pulling up to an LA studio, "and her growing baby bump was visible ... even through a pretty hefty sweater," reported TMZ. And the comments section on a TMZ article posted Tuesday were pretty appalling, to say the least. "If she walks backwards she will look pregnant with that fat azz!" one commenter wrote. Another chimed in with, "I thought the bump was supposed to be in the front. Not her backside." Are these people for real? Pregnant or not, who talks that way about a woman's body?
As one Twitter user pointed out, "Maybe she just had chipotle?!" Based on how my body reacts to a burrito the size of my head, I'd say that could very well be the case. But I digress.
Even more recently, Khloé, according to In Style, was carrying the world's most expensive purse at the airport. And apparently, it served a pretty noble purpose. "Fresh off her sisters' respective baby showers, Khloé Kardashian hit up LAX on Wednesday in a perfectly kasual all-black ensemble suited for the skies," In Style reported. The publication also noted Kardashian's olive green Hermès Birkin bag, which she appeared to be using to shield her midsection from public view — a signature I'm-hiding-my-pregnancy celebrity move. "Looks preggie to me," one Twitter user declared.
Look, I know Khloé is a reality star and all — but this constant body speculation is getting a bit out of hand, don't you think? Do we really need to be commenting on her "tiny" bump or her "fat azz" every single time she walks out of the door? I can't speak for anyone else, but I know I'm particularly sensitive to criticism about my body when I'm pregnant. In fact, I'm pretty sure I went off on my then-12-year-old half-sister when she commented, "Wow, you've really gotten big." So I can only imagine what a maybe-prego Khloé is feeling when she glances at headline after headline speculating over her body. Let's stop the madness, okay?
In the meantime ...
Check out Romper's new video series, Romper's Doula Diaries:
Watch full episodes of Romper's Doula Diaries on Facebook Watch.