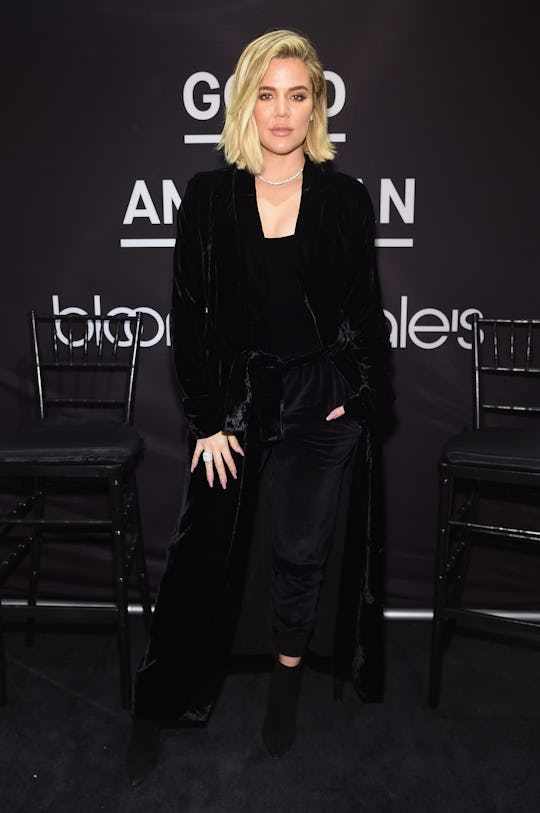 Jamie McCarthy/Getty Images Entertainment/Getty Images
Khloé's Sweet Instagram Photo Of True Captures This Touching New Mom Moment
No matter how much you hear people say it before you give birth, there's one paradox of parenting that will always catch you off-guard: even though the days can feel super long and tiring when you have a baby, it also feels like it's going by way too fast. As exciting as it is to watch your little one grow, it's also really bittersweet, and it's a parenting reality that Khloe Kardashian's sweet Instagram photo of True captures so perfectly.
Despite the difficult personal drama surrounding Kardashian's relationship with partner Tristan Thompson, it seems that the reality star's one and only priority since her daughter's April 12 arrival has simply been squeezing every ounce of joy from new motherhood that she can. On Twitter Tuesday, the reality star admitted that sometimes she "still can't believe [she's] a mommy," according to People, and called her baby girl her "bestie for life." One day later, Kardashian shared an adorable photo of True on Instagram from when she was only two weeks old, and though only five more weeks have passed since then, it already sounds like Kardashian is feeling eager to slow down the clock.
Kardashian shared the photo of her infant daughter rocking the bunny filter, and called her "my baby bunny." But as proud as she sounds, it also seems like she's becoming well acquainted with the simultaneously sweet and heartbreaking moments of motherhood: at the bottom of the pic, she wrote, "She was only 2 weeks in this pic. Why is the time flying!! She will be 7 weeks tomorrow."
Of course, to parents with older kids, a 7-week-old baby is still practically a newborn, and it may seem funny that Kardashian is already freaking out. But if you've spent your entire pregnancy eagerly awaiting your baby's arrival, like Kardashian did, it makes sense that it would be really hard to wrap your head around the idea that seven weeks have already gone by in your child's life. And while I'd love to say the struggle gets easier, the truth is that it always seems to feel difficult to accept that certain milestones have already come and gone forever, no matter how many years have passed.
Although it seemed reasonable to think that Kardashian might want to head back to California after giving birth so she could be with her family (including sisters Kim and Kylie, who have also had baby girls this year), it seems that she's opted to remain in Cleveland after all, where she shares a home with Thompson. But, judging from her social media posts at least, it seems to be working out pretty well.
On Tuesday, Kardashian wrote in a post on her app that she was actually really enjoying the "eat, sleep, potty" schedule that infants follow in their first few months, explaining that she "[loves] a routine," and adding, "not going to lie, this works for me." And earlier this month, the reality star shared a video on Instagram for True's one-month "birthday," and it was honestly just too adorable for words:
The hard part for Kardashian though (and, let's be honest, for all parents everywhere) is that, no matter how much you try to live in the moment and commit everything about your baby to memory, there will never actually be a way to change the fact that each stage will feel like it went by far too quickly — even if it didn't feel that way at the time. All we can do, it seems, is try our best to enjoy every stage that comes and goes. And while True might still be a tiny infant, and it seems that's something Kardashian already has figured out.