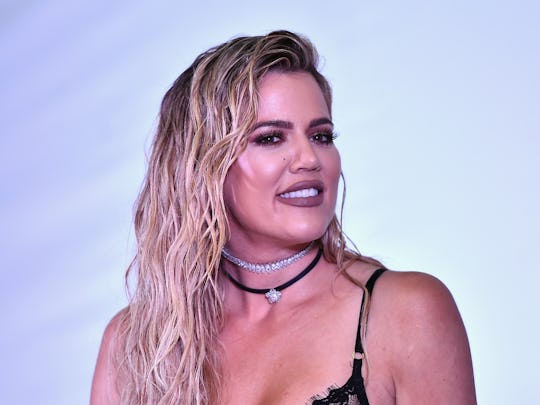 Alberto E. Rodriguez/Getty Images Entertainment/Getty Images
Khloé Kardashian's Thoughts On Maternity Clothes Are Kind Of Problematic
On The Ellen DeGeneres Show, her talk show debut since confirming her pregnancy, Khloé Kardashian shared her thoughts on maternity clothes, People reported. The Keeping Up With the Kardashians star is expecting her first child with NBA player boyfriend, Tristan Thompson, and said that she'll try not to wear maternity clothes as long as possible. But Khloé's opinion on maternity clothes, while her own, can be problematic.
Us Weekly broke the news of Khloé's pregnancy in September, announcing that she and Thompson are expecting a baby boy. Now she's about six months along, according to UsWeekly and, since making the announcement on Instagram last month, she sat down with Ellen DeGeneres to chat about her pregnancy thus far. DeGeneres welcomed Khloé by saying, "In three months, our first guest will become the most famous mother in Cleveland, Ohio."
"At the beginning, the first trimester is the worst and no one knows you're pregnant yet and you feel the most uncomfortable," Khloé said on the show, according to People, adding that it's hard for her to breathe right now, but that she hopes she looks pregnant and "not just fat."
When Ellen pointed out that it's hard for Khloé to breathe, perhaps because of the tight dress she was wearing, Khloé said that it's not the tight clothing that makes it difficult for her to breathe but, rather, just the walking around. That's why said she hopes people don't just assume that she's fat.
While these are Khloé's own feelings about maternity clothes, and she's certainly entitled to her own opinion, her feelings are quite problematic — especially the fact that she's concerned about looking "just fat." Why? Well, fat isn't a negative word, yet that's how she uses it. Being "fat" isn't inherently unhealthy, either, and perpetuating that idea is the result of nothing but fatphobia. According to Medical Daily, body mass index (BMI), which is where we get the idea that being "fat" is bad, is not a good indication of one's health.
All women's bodies respond to pregnancy differently. You might remember model Sarah Stage who caused an uproar in 2015 for maintaining a six pack throughout her pregnancy? Well, she is shocking followers once again by weighing in at 137 pounds during her current pregnancy, according to E!. And then there is Khloé's sister, Kim Kardashian, who reportedly gained 70 pounds during pregnancy, according to Metro.
For pregnant women, maintaining weight can be a balancing act. It's not OK to tell women how their bodies should or should not look during pregnancy — or, um, ever really — especially because research suggests that it's difficult for pregnant women to gain a healthy amount of gestational weight by researchers' standards. According to a study, published in the The Journal of the American Medical Association, about 50 percent of pregnant women gain too much weight and about 23 percent of women don't gain enough.
Of course, maternity clothes are a thing for a reason: For a lot of women who do gain baby weight, comfort takes precedence — they don't wear maternity clothes so people know they're pregnant and not "just fat." According to Livestrong, maternity clothes help prevent yeast infections, to which pregnant women are more prone, pain, and heartburn — all of which too-tight clothes can induce. Tight clothing can also cut off circulation and, in early pregnancy, a woman's blood vessels expand to prepare for the increased blood volume that develops to provide for the placenta and the baby — this process can cause a woman to experience hypotension or low blood pressure, so circulation is important, according to Livestrong.
Tons of brands have offered and are starting to offer maternity lines, including ASOS, H&M, and Topshop. If Khloé doesn't want to shop them, that's her prerogative. But if she prefers to wear her pre-pregnancy wardrobe, she should do so with confidence in her pregnancy, while keeping the fat-shaming comments (even if they were accidental) to herself.
Check out Romper's new video series, Romper's Doula Diaries:
Watch full episodes of Romper's Doula Diaries on Facebook Watch.