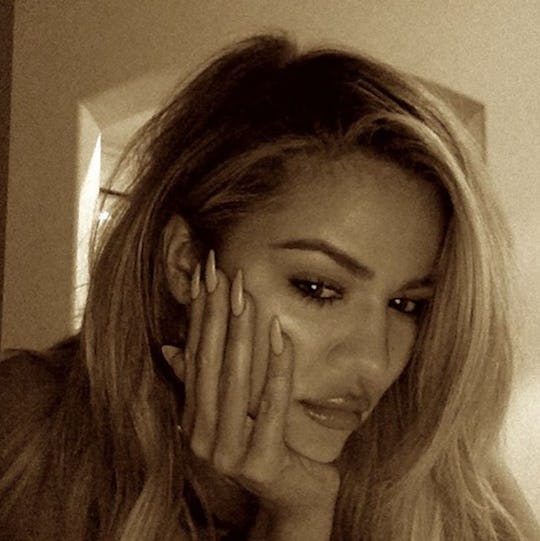 Khloe Kardashian/Instagram
Khloe Kardashian's Tweet About Kim's Baby & Lamar Captures What She's Dealing With
It's been an exciting day on the Twitter-sphere with the birth of Kim Kardashian and Kanye West's second child. Congratulations poured in from fans and friends, but some members of Kim's family also posted on social media about the birth, including Khloe Kardashian's tweet about visiting both Kim and Lamar Odom, her estranged husband, in the hospital.
Kardashian and West announced the news of their new baby boy's early arrival on Twitter and their app with a simple "He's here!" The app expanded the update to note that both mom and baby are doing well. Originally due on Christmas, Kardashian had suspected that she might deliver early just as she had with her first child, North.
Mom Kris Jenner and sister Kourtney Kardashian were reportedly in the delivery room with Kim as she gave birth birth to her second child, a boy. Husband Kanye just barely made it in time for the birth, flying from New York to Los Angeles when he heard the news that Kim had gone into labor. Little sister Kylie Jenner was definitely not in the vicinity of the hospital, as Jenner was spotted at Art Basel this week in Miami, Florida. Other sister Kendall Jenner was last spotted at a hotel munching on bread, according to Jenner's Instagram.
And what about younger sister Khloe? She hasn't officially offered any congratulatory words for her older sis and new nephew just yet—only this sobering tweet:
If you remember, Khloe's estranged husband Lamar Odom was found unresponsive in a Nevada brothel on Oct. 13. Details about Odom's ongoing condition have been scarce outside of a few media statements: he's had two emergency surgeries and is finally breathing on his own. Khloe has faithfully been at Odom's side in the hospital while he recovers, but the 31-year old Kardashian has faced a slew of criticism on her relative radio silence on Odom's condition. When a People interview with Khloe was published just over two weeks after Odom's condition was first reported, Khloe was forced to defend herself from a backlash of animosity accusing her of profiting off of Odom's near-death.
I wouldn't be surprised if she'll have to contend with the same backlash for making her first tweet about the baby bittersweet instead of issuing a straightforward congratulations. But if you think about it, it's completely understandable where Khloe is coming from: Odom has had a tough recovery since October. And while the news of a new baby is always happy news, going from the maternity ward to the ICU and back is a jarring experience and a reminder of the fragility of life all around.
Khloe's realness about where she's coming from right now is actually refreshing. She's not all smiles for the camera, she's being where she is right now — in between two hospital rooms with very different things going on inside.
Images: Khloe Kardashian/Instagram.