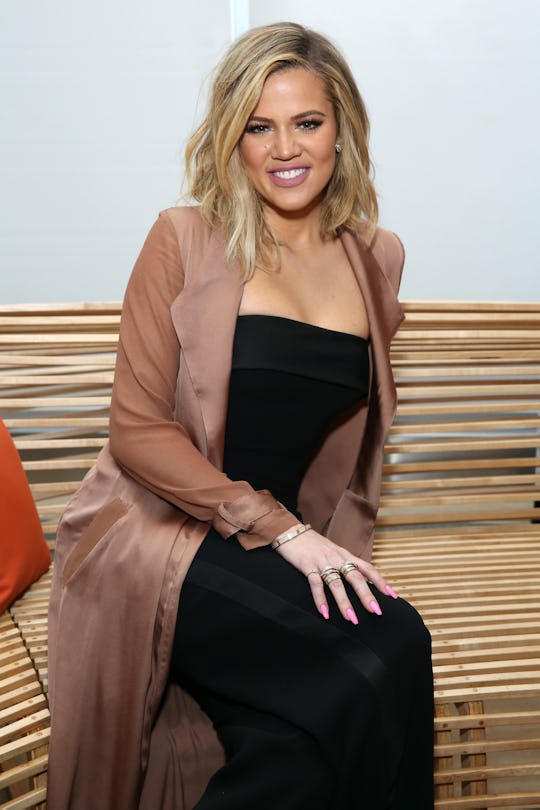 Cindy Ord/Getty Images Entertainment/Getty Images
Khloé Kardashian's Tweet After True Turned 2 Months Old Will Hit Home With First-Time Parents
Khloé Kardashian returned to her hometown of Los Angeles on Father's Day, just a few months after she hunkered down in Cleveland, Ohio, to give birth to her daughter, True. And now that Kardashian is back in L.A., she has hit the ground running — from a fun birthday bash with her sisters on June 27 to nights out on the town with her boyfriend, Tristan Thompson, she is wasting no time getting back into the swing of her old life. The only problem? Kardashian now has an infant to take care of, and its been a bit difficult for her to maintain a sense of balance in her life. Want evidence? Look no further than Khloé Kardashian's tweet after True turned 2 months old. There's a good chance many parents out there will be able to relate to Kardashian's juggling act and her newfound appreciation of "adult time."
Out of all of the Keeping Up With The Kardashian sisters, Kardashian is arguably the most candid on social media. The reality star often responds to her fans on Twitter, and she's not afraid to shoot down tabloid rumors directly. And on Sunday, Kardashian reinforced her accessible reputation when she responded to a fan's question about her life with True two months in.
"How are you coping? Is it harder than you expected or better?" the fan asked, according to Twitter. "I'm so happy for your little family. True really is a blessing."
Kardashian, in an effort to keep it real, responded:
Honestly it's amazing! Of course it's an adjustment but it's so beautiful! Sometimes I don't know what day it is or I don't get a shower LOL but she is finally on a great sleep schedule so I get adult time which is awesome!
Sounds like Kardashian is right on schedule in her parenting journey, right? Not only is Kardashian clearly in the throes of the infant stage (aka when showering becomes a luxury), but she's also regaining a sense of her old life. Many parents, famous or not, tend to feel more comfortable with self-care a few months post-delivery. It's nice to hear Kardashian is allowing herself to enjoy a little "adult time," now that True is 2 months old. Time flies, doesn't it?
As for what Kardashian has been up to now that she's able to relax a little, the answer is so satisfying.
"Baby has been down for about an hour. Organized my closet a little, Now, I get most of the evening to myself," Kardashian tweeted late Saturday night. "Bath tub and wine? Sounds like a perfect Saturday night to me!!!"
Ah yes, the simple joy of enjoying a bubble with a glass of wine in hand. Kardashian really knows how to live.
Understandably, a lot of parents can relate to this stage of Kardashian's parenting journey.
"Adult time, I recommend sleeping! Mum of 3 needs sleep... and wine," one fan commented.
Another person chimed in: "Adult time! It's a beautiful thing! Enjoy!"
"Wow! Someone like u admitting U don't get a shower," one impressed fan marveled. "Girl I was so ashamed to tell people that. Woohoo! I'm not the only one, except I have no family, all in Scotland and had no friends when I moved here. It was really hard! Still is, I have 2 & 3 yo girls."
Although some people might argue that Kardashian has a lot of help to see her through this adjustment period, it doesn't make her struggle any less real. Kardashian, like any parent of a 2-month-old, is in the midst of finding herself again, and her honesty about this process is incredibly refreshing. Enjoy your bubble bath and wine nights, girl.