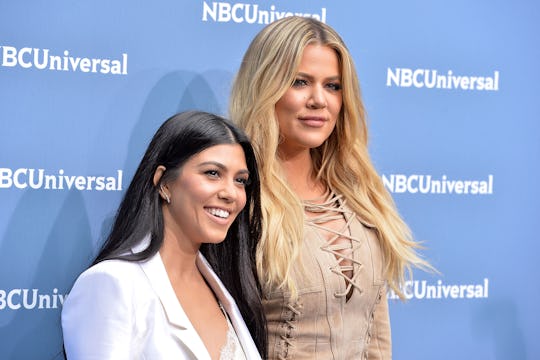 Slaven Vlasic/Getty Images Entertainment/Getty Images
Khloé & Kourtney Had A Blast At "Baby Class" With 4 Of The Kardashian Kiddos
Fans of Keeping Up With The Kardashians should be familiar with seeing siblings, Kourtney and Khloé Kardashian pal around together. And those who have been watching for a long time should be familiar with the show's spin off series — Kourtney and Khloé Take Miami and Kourtney and Khloé Take The Hamptons. But, the siblings should start their own spin off called "Kourtney and Khloé Take Baby Class" because that is exactly what they did on Wednesday. On Snapchat, Khloé and Kourtney Kardashian documented going to "baby class" and it was super adorable.
If there was anything to indicate how much the Kardashian sisters lives have changed since all becoming mothers, the videos posted to Khloé Kardashian's Snapchat account on Wednesday highlight just this. In the first few videos, Khloé's daughter, True, poses with filters on her adorable face, looking so sweet. But, as Kourtney reveals in the video, she has to steal True for "baby class."
Khloé's Snapchats from this "baby class" look just as fun as they sound. In the class, True can be seen with Kourtney's daughter, Penelope, sitting in her lap and singing songs. But Penelope wasn't True's only cousin in attendance — in one snap, Dream Kardashian, whose father is Khloé's brother, Rob, can be seen dancing, according to People. And in another snap, Kim Kardashian's son, Saint, bounces on top of a bouncy ball.
As Khloé perfectly stated on one snapchat video — "baby class is poppin."
Based on her Snapchats, baby class looked like a blast — you can't argue with the fact that every single kid in Khloé's Snapchat Story seem so happy to be at the class, dancing and playing with one another. If only every single class was like baby class — or, at least, the Kardashian's version of baby class.
Based on all of the cameos from her siblings kids, it's clear that the Kardashian cousins are close. But how could they not be? Especially since many of them are pretty close in age.
Kim's youngest daughter, Chicago West, was born this past January, according to TMZ, and Kylie Jenner's daughter, Stormi Webster, followed shortly behind her cousin when she was born in February, according to Vanity Fair. On top of these new additions, Khloé gave birth to True in April, according to Us Weekly, rounding out the new wave of cousins.
If a handful of the Kardashian cousins are in the same baby class, then could you imagine what they'll be like when they begin taking classes in real school? That is one group of kids that people will not want to mess with.
If it wasn't already clear from Khloé's Snapchat story, the Kardashian cousins are close — probably because their parents spend so much time together, hanging out and filming their family's reality show, Keeping Up With The Kardashians. The cousins do everything together — from going to baby class to having joint birthday parties together, according to People.
Now that the younger cousins are taking baby class together, maybe they will finally get around to posting that photo shoot that fans have been waiting for. Earlier this month, Khloé tweeted that Chicago, Stormi, and True, all participated in the cutest cousin photo shoot. And a little before that, in June, Kim told Entertainment Tonight that she is so excited for the girls to grow up together and have something like the photo shoot to preserve their memories. So sweet.
It's clear to anyone that watches Keeping Up With The Kardashians that family means the world to the siblings and it will mean just as much to the cousins. Just by doing the smallest things together, like playing together in baby class, they're spending more time with one another and strengthening their bond.