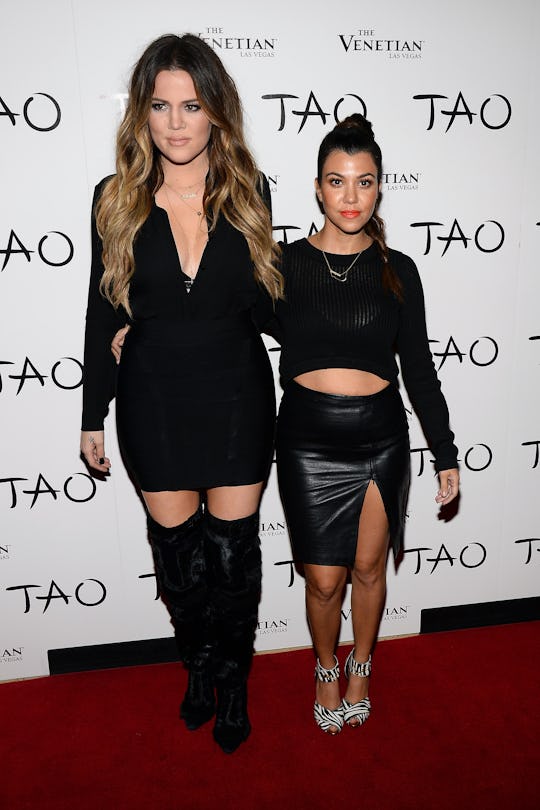 Ethan Miller/Getty Images
Khloe & Kourtney Kardashian's 'The People v. O.J. Simpson: American Crime Story' Appearance Is Unexpected
If you were a true crime buff, chances are FX's The People v. O.J. Simpson: American Crime Story premiere didn't quite surprise you. The murder scene, the white Ford Bronco, and, yes, even the glove were all included in the first 60 minutes of Ryan Murphy's one-season look into the murder of Nicole Brown Simpson and Ron Goldman. But the fact that Khloé and Kourtney Kardashian appeared on American Crime Story? Well, that was a bit more surprising.
Of course, Kourtney and Khloé weren't on the series as you know them now. Instead, the series kept up with the Kardashians by recruiting child actors to play the TV version of America's Royal Family in American Crime Story. Not that we've heard much about them — the child actors playing the Kardashians aren't featured on IMDB, nor are they named in previous previous reports surrounding their involvement in the show.
That's likely because the Kardashian children don't take on big roles in the series, which stars David Schwimmer as Simpson's friend and defense lawyer Robert Kardashian and Selma Blair as Kardashian's ex-wife, Kris Jenner. Instead, based on the premiere, their presence is more of a wink to audiences who are tuning into the series because of the case's connection to the future Keeping Up With The Kardashian stars.
Indeed, blink and you would miss the Kardashian kids in The People v. OJ Simpson premiere. During the scene recreating Nicole Brown Simpson's funeral, a distressed Blair (as Jenner) yells to a group of kids playing in the distance, telling them to stop running. She only names Khloé, who was nine at the time of Nicole Brown Simpson's murder, and Kourtney, who was 15, but was that also Rob Kardashian Jr. we see frolicking with them?
(Of course, Kim Kardashian is mentioned later in the series as well, during a far more distressing scene when Cuba Gooding Jr., as the titular Simpson, attempted to commit suicide in Kim's bedroom. It's a scenario that author Lawrence Schiller alleged did occur in his American Tragedy: The Uncensored Story of the O.J. Simpson Defense.)
But how do the Kardashians feel about being name-checked and portrayed in what's sure to be a controversial series? (Nicole Brown Simpson and Goldman's families have already spoken out against American Crime Story.) Well, it seems the family never passes up an opportunity to be name-checked. According to Khloé, who also noted her that her mother became close with Blair during filming):
I would like to see it ... However they want to portray us is fine.
Can't be worse than how the media portrays the Kardashians, right?