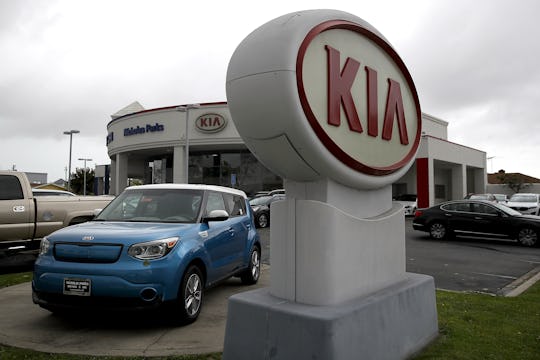 Justin Sullivan/Getty Images News/Getty Images
Kia Has Recalled Half A Million Cars In The US — Here's What You Need To Know
Following a long list of scary recalls earlier last month, news of another concerning recall broke on Friday. In a frightening turn of events, Kia recalled half a million cars in the United States due to reports of faulty airbags. Although this recall is understandably worrisome, here's all the information you need to know to keep your family safe going forward. Kia did not immediately respond to Romper's request for comment.
Back in March, the National Highway Traffic Safety Administration launched an investigation into four deaths and six injuries related to car crashes involving Hyundai and Kia models. In each investigated incident, the air bag reportedly failed to deploy due to a "short circuit within an airbag controller," according to Consumer Reports. Following the findings, Hyundai recalled about "580,000 2011 through 2013 Sonata, and 2011 through 2012 Hyundai Sonata Hybrids" in April, according to Michigan Live. Hyundai did not immediately respond to Romper's request for comment.
As for how the Hyundai and Kia recalls are related, investigators suspected the 2012 and 2013 Kia Forte Sedans used the same airbag controller suppliers as Hyundai. "Kia will act promptly to conduct a safety recall, if it determines that a recall would be appropriate," the company said at the time about the potential connection, according to the Chicago Tribune.
Well, it looks like Kia has since found sufficient evidence to warrant a recall. Just a few months after the investigation, Kia announced the recall of 507,587 vehicles. Specifically, the Kia recall includes, according to the company's website:
All Forte vehicles produced from February 24, 2009 through August 31, 2012.
All Forte Koup vehicles produced from June 5, 2009 through August 31, 2012.
A ll Optima vehicles produced from August 12, 2010 through August 31, 2012.
All Optima Hybrid vehicles produced from February 15, 2011 through August 31, 2012.
All Sedona vehicles produced from March 3, 2010 through August 14, 2012.
Of course, Kia wouldn't recall half a million cars without a good reason. In a statement about why the recall happened, Kia explained via its website:
The airbag control unit (ACU) detects crash severity and commands deployment of the advanced airbags and seatbelt pretensioners when necessary. The recalled vehicles are equipped with an ACU that contains a certain application-specific integrated circuit (ASIC) that may be susceptible to electrical overstress during certain frontal crash events. If the ASIC becomes damaged from electrical overstress, the front airbags and front seatbelt pretensioners may not deploy in certain frontal crashes where deployment may be necessary, thereby increasing the risk of injury to vehicle occupants.
Now that you're all caught up on the details of the recall, here's what you can do to stay safe.
The first thing families should do is check their Vehicle Identification Number (VIN) on Safercar.gov. Plugging your VIN into the system will locate any relevant recall information about your vehicle within seconds.
Another option is to wait for a first-class mail notification from Kia. "Affected owners will be notified by first class mail beginning July 27, 2018," the company's website states.
If you don't want to wait (totally understandable, BTW), you can contact Kia directly via its website or customer service line.
Once you find out whether your car is affected, wait to receive repair instructions in the mail. Unfortunately, Kia is still working to find a "remedy" to the airbag controller issue, according to Consumer Reports, so it's not exactly clear when these instructions will arrive. Once the fix is identified, however, owners will be notified and they'll be able to schedule a repair appointment with their local dealer at no cost.
In the meantime, call Kia or your local dealer to see if it's possible to receive a loaner car until a fix is identified. And if you're concerned about your passengers, leave the front passenger seat empty until your car is repaired.
Additionally, it's important to keep in mind that Kia isn't warning consumers to stop driving affected cars immediately. Unlike the Ford Takata airbag recall in February — a recall that urged consumers to stop driving their cars — this recall is more of a warning than an immediate threat.
If you still have questions about the recall, don't hesitate to contact Kia. Your family's safety is a priority, and you deserve to have your concerns heard.