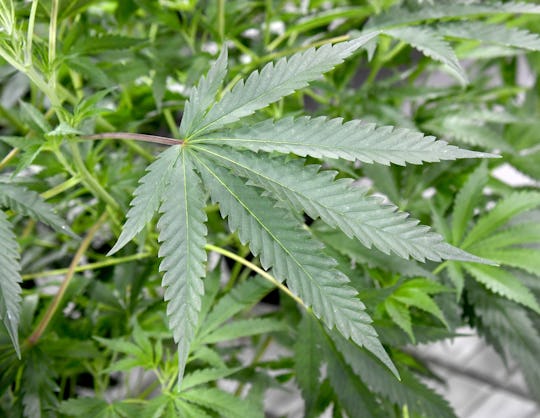 Ethan Miller/Getty Images News/Getty Images
Kids Are Ending Up In The ER Because Of Marijuana Exposure, Science Says
Growing up, kids learn over and over and over again to stay away from drugs. It's an essential lesson, but one that's complicated when the adults around them use marijuana and keep those products around the house. As a result, kids increasingly need medical attention for marijuana exposure. That's according to a study conducted in France, which found that emergency room admissions in kids under 6 due to inadvertent marijuana use — oftentimes by ingesting it — increased dramatically over an 11-year period. But the problem extends well beyond France to the United States, where increased legalization has introduced new safety issues for little ones.
Published in the journal Pediatrics Monday, the study tracked emergency room admission in children under 6 in France. Researchers determined that the rate increased 133 percent between 2004 and 2014, according to Reuters. There was a total of 235 such admissions. The country also experience a 312 percent increase in calls related to accidental marijuana exposure in young children during that time period.
And the severity of the symptoms increased over time, too. According to CNN, 32 of the admitted children were comatose as a result of the exposure, and more than half of them were hospitalized in 2014. Other symptoms included drowsiness, seizures, altered consciousness, and euphoria.
In France, where cannabis is illegal but still used more than in any other country in Europe, the explanation for this troubling uptick is pretty straightforward. The concentrated marijuana product hashish, which is meant to be smoked, is popular in France. Kids sometimes eat it instead, though — and, as the study reported, the amount of THC hashish contained more than doubled over the course of the study period. Instead of 9.3 percent per gram, the concentration rose to 20.7 percent per gram, Reuters reported.
In the United States, a similar problem emerged when states began to legalize marijuana for both medical and recreational use. Pediatric toxicologist Dr. G. Sam Wang discovered in his research that in the two years before and after Colorado legalized marijuana in 2014, the state experienced an average 34-percent increase in calls to poison control centers about accidental marijuana exposure annually, according to CNN. He believes that the labels for edibles could lead kids to believe they're eating a normal dessert or snack, as he told the outlet:
Usually, kids get into things that become more available, and usually, that happens when it's a household product, like those laundry detergent pods, which were attractive. It's kind of the same situation with marijuana, where we think in states with legal marijuana, probably more households have it in their home, especially the food or edible marijuana products with bright labels, that makes it easier for kids to get into them.
The problem became so apparent, in fact, that Colorado Gov. John Hickenlooper warned other governors to strongly regulate edibles at the end of last year. The Guardian noted that, before the state moved to regulate the industry more strictly, cannabis products like gummy bears, lollipops, brownies, cookies, and chocolates looked very much like the versions of those treats that don't contain marijuana. And, really, what child can resist gummy bears and brownies?
Obviously, parents in France, the United States, and all over the world need to make sure they're keeping their marijuana far out of reach of the kids. Even as society begins to view the drug more favorably, it's still pretty dangerous for young people — especially when they don't know what they're doing when they ingest it.