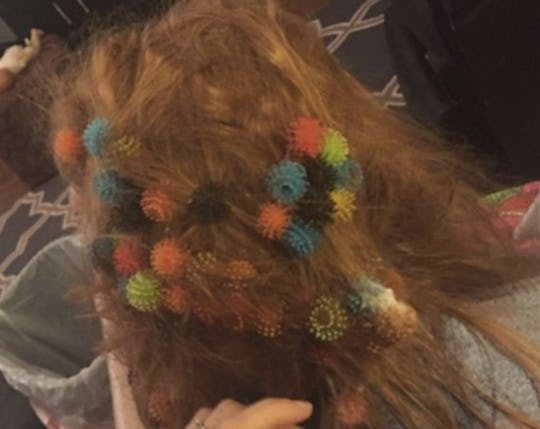 Kids Are Ruining Their Hair With These Toys, & Parents Are Not Happy About It — PHOTOS
As the holiday season nears, children's wish lists and unending "hot takes" on the latest and best toys of 2015 are already starting to make their rounds. Many parents are adamant about gifting their children with the "coolest" present because hey, what's the point in recess if you can't use it to brag about your new stuff? There's one trendy toy, however, that is quickly losing favor with children and parents alike. At least, with children who are using it very incorrectly and their very annoyed parents.
Bunchems, a toy made up of a bunch of tiny plastic balls that kids can then connect to make varying shapes that made Target's list of top toys in 2015, seems to be benefitting barber shops more than elementary school hierarchies of coolness. Children (primarily little girls) are getting the plastic balls stuck in their hair, resulting in unwanted haircuts and extremely angry parents.
"Four hours of pain and $200 later... Not really worth it," one Amazon reviewer wrote, accompanied by pictures that just look downright painful.
Arlene Biran, Vice President of Marketing for Spin Master, the company that makes the now-controversial toy, tells BuzzFeed, "Since Spin Master launched Bunchems in August 2015, we have received an overwhelmingly positive response from children, parents, and industry partners."
Romper has reached out to Spin Master for comment, but has not heard back.
But one look at the toy's amazon reviews and the pictures that accompany them (and, honestly, even a quick search on social media) and the above statement seems to overlook one simple fact: Kids are mostly very dumb and do almost everything wrong, all the time. Example:
It honestly hurts to look at.
And since drastic and probably emotionally-scarring haircuts aren't generally on the top of any child's holiday wish list, parents are quick to warn others of the potential risk that Bunchems presents.
So if you were thinking of stuffing a stocking with Bunchems for your kid this holiday season, it might be worth pausing on this one. (Or maybe, ya know, just teach your child how to not fail at using their toys.)
Images: BuzzFeed Parents/Twitter