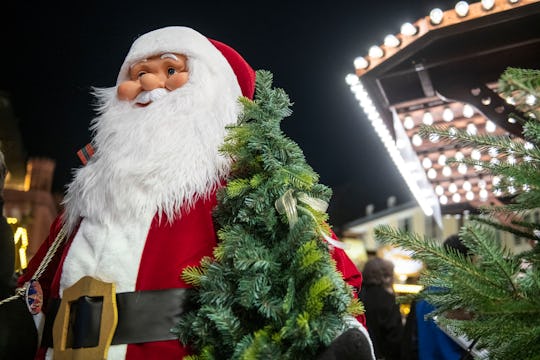 Thomas Lohnes/Getty Images News/Getty Images
Kids Can Use Alexa To Call Santa Now, So It's Goodbye Baby Shark, Hello Santa
Gone are the days of simply writing a letter to Santa. Even getting an email from the big man himself sounds passé. And going to see him in person? You might be waiting in line until New Year's Day. How about having Alexa help you? Starting today, kids can use Alexa to call Santa and the holidays just got a bit easier.
In order to give Santa a call, simply say:
"Alexa, call Santa" and you can hear from the big man himself, Jack Frost, and the North Pole elves. Anyone who owns an Echo Dot Kids or subscribes to FreeTime can do this at no additional cost, according to a press release. It's basically like having Santa on speed dial. Kids don't have to wait for Christmas Eve or wait in a long line at the mall, he's right there waiting to hear from them at Alexa's beck and call.
For more festive fun, there are even more holiday-related questions and requests that you can make, including:
"Alexa, open my Toy Box"
"Alexa, what are your favorite winter books?"
"Alexa, tell me a winter story"
"Alexa, what are your favorite winter movies?"
"Alexa, can reindeer fly?"
"Alexa, what's your favorite holiday cookie?"
"Alexa, will we get a white Christmas?"
Alexa is the personal assistant (think Apple's Siri) that virtually lives inside your Amazon-brand smart speakers and other select Amazon electronics. Aside from the zillions of other things she can do (order take out, check on sports scores, purchase movie tickets) you can add calling Santa to the list.
The Echo Dot Kids is a kids version of Amazon's Echo smart speaker series and comes with parental controls. If you don't own one, you can pick one up on Amazon for about $50. It comes in red, blue, and green. Plus, the purchase comes with a free year of FreeTime.
FreeTime is an Amazon subscription geared towards children ages 3 to 12. With a FreeTime subscription, kids will have access to podcasts, audio books, audio games, and more.
The cost is about $3 per month per kid, or $7 for more than one. For non-Prime members, it goes up to $5 and $10 respectively.
Fun fact: Smart home devices like the Amazon Echo will be in more than 50 million homes worldwide by the end of the year, according to ABI research group, as CNN reported. That's a lot of calls to Santa.
So it looks like Alexa is going to be very entertaining for the kids this season. But how can she help you?
From keeping grocery lists and to do lists current to pulling together recipes, playing your favorite holiday tunes and games, and generally keeping you prepared and organized all holiday season long, there's a lot that Alexa is capable of this time of year, for those who have the device.
If you're on the look out for another fun Alexa feature, enable the Santa Tracker skill and kids can track where Santa is on the night before the big day.
There really seems to be no end to things it can do, especially in the minds of Alexa fans. And now that you know it can call Santa, if your family celebrates Christmas, it's just one extra way you can make the holidays brighter for the kiddos.
This first-time mom wants to have a home birth, but is she ready? Watch how a doula supports a military mom who's determined to have a home birth in Episode One of Romper's Doula Diaries, Season Two, below. Visit Bustle Digital Group's YouTube page for the next three episodes, launching every Monday starting November 26.