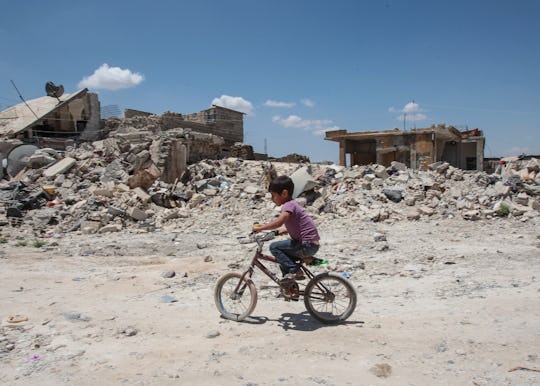 Ahmet Sik/Getty Images News/Getty Images
2016 Was The Deadliest Year Ever For Syrian Kids
It's been six years since Syria's bloody civil war began in 2011 and over those years, an estimated 400,000 citizens have been killed as a result of the ongoing conflict. But last year was reportedly the worst year yet for the country's most innocent victims: The U.N. reported this week that Syrian kids faced the deadliest year ever in 2016. The record high number takes into account the children who were killed in or near a school; children who were attacked at or near a hospital; those who died from preventable diseases that could've easily been cured; and children forced to fight on the front lines of war in combat roles and, in extreme cases, as executioners or suicide bombers.
In total, at least 652 Syrian children were killed in 2016, which is a 20 percent increase from last year's record of child casualties, UNICEF said in a press release on Monday. This devastating figure includes only formally verified deaths, so the actual number could be much higher.
The organization reports that the "drastic escalation in violence" and the "depth of suffering" is unprecedented. To put that into context, more than 850 children were recruited to fight last year, compared with 362 verified cases in 2015 and nearly 6 million children now depend on humanitarian assistance, which is a twelvefold increase from 2012, according to the report.
What's more, UNICEF reported that, currently, almost 300,000 children are living under siege in hard-to-reach areas, cutting them off from humanitarian aid. The report also said that millions have been displaced over the years, some up to seven times, and now over 2.3 million children are living as refugees in Turkey, Lebanon, Jordan, Egypt, and Iraq.
"Millions of children in Syria come under attack on a daily basis, their lives turned upside down," Geert Cappelaere, UNICEF Regional Director for the Middle East and North Africa, said in the press release. "Each and every child is scarred for life with horrific consequences on their health, well-being and future… There is so much more we can and should do to turn the tide for Syria's children."
As a result of the war and harsh living conditions Syrian children are forced into, more than 1.7 million of the country's children are reportedly out of school and one in every three schools in Syria is unusable because it's been destroyed or the military has taken it over.
The report also warned that families are overwhelmed and desperate for safety and stability just to survive in these conditions, often pushing children into early marriage and child labor for financial security. "The situation for Syrian children has hit rock bottom," Juliette Touma, UNICEF regional spokesperson said, according to the report.
As the BBC reported, the first protests against Bashar al-Assad's rule began in Syria six years ago this week, which ultimately led to a violent crackdown and then the ongoing civil war that's taken countless lives. Without immediate help, many fear that Syrian children could be living in a state of "toxic stress" because they've been trapped in a war zone since the violence began in 2011, according to Save The Children.
Still, many of the children who have lived through such horrors and suffering are hopeful and determined to pursue their dreams. "I want to be a surgeon to help the sick and injured people of Syria," a 12-year-old refugee named Daisy living in Turkey said, according to the UNICEF press release. "I dream of a Syria without a war so we can go home. I dream of a world without any wars."
While the true devastation in Syria may be difficult to understand and hard to accurately gather, the latest numbers are a shocking reality for world leaders and should push everyone to take action in order to save those who are caught in this grim humanitarian crisis.