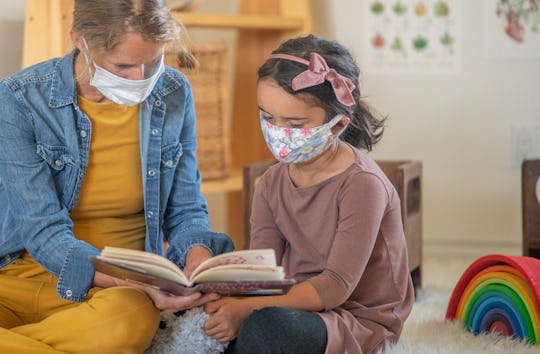 FatCamera/E+/Getty Images
Surprisingly, Kids Are Totally *Fine* With Seeing Their Caregivers In Masks
Wearing masks when you're out and about is the new normal, but that doesn't mean that everyone will adapt right away — especially kids. With states reopening, and day cares and camps in session, how are kids reacting to caregivers in masks?
Everyone relies on reading people's faces to determine their mood and react accordingly, but with masks on, that's fairly impossible. For kids who are more reliant on seeing smiling, welcoming faces than even adults, masks can be a scary thing. More than once I have found myself looking at a baby or small child, wishing that I could lower my mask so that they might see my smiling face, but I know that is unsafe, unwise, and unkind. Instead, I simply wave and nod my head, hoping that these kids are learning other, often more subtle cues to the feelings of those around them. And it turns out, for the most part, they are.
Kids are stunningly resilient little creatures who are better at adapting than we are. When I told my kids that we all had to wear masks so that we wouldn't get ourselves or others sick, they were immediately on-board, scrolling through Etsy for their styles. For the most part, the kids are alright, and that includes how they feel when they see a mask, too.
We only include products that have been independently selected by Romper's editorial team. However, we may receive a portion of sales if you purchase a product through a link in this article.