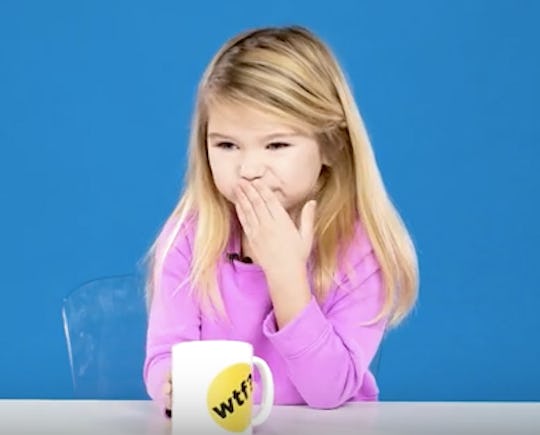 YouTube
Kids Try Coffee For The First Time, & I Don't Like Them Hating On My Best Friend Like That — VIDEO
I don't know about you, but coffee is a vital part of my continued existence. I can't properly function without at least a cup and a half of java every morning, and triple shot lattes are the reason I made it through college. Children, on the other hand, don't need caffeine to function, what with their overabundance of natural energy and all (seriously, where does all of that energy come from?!). So, what would happen if kids tried coffee for the first time, not out of necessity, but for taste?
BuzzFeed answered this question with a hilarious new video, showing kids talking about, and then attempting to drink, coffee. Many were hesitant to begin with, some couldn't even stand the smell, and a few even had to spit the coffee out once they tried it (blasphemy). And of course, there were a few who absolutely loved the taste and wanted to take their cup of coffee home with them. (Those kids are my people.)
I can't remember when I first tried coffee (probably because I can't remember a time I didn't need coffee), but watching these kids try a cup for the first time makes me stop and consider whether or not I'm drinking coffee because it tastes delicious, or because I have to stay awake for so many hours in a day. Hmm. Don't care! *sip*
Either way, coffee is an acquired taste, and no one knows that better than these kids now do.