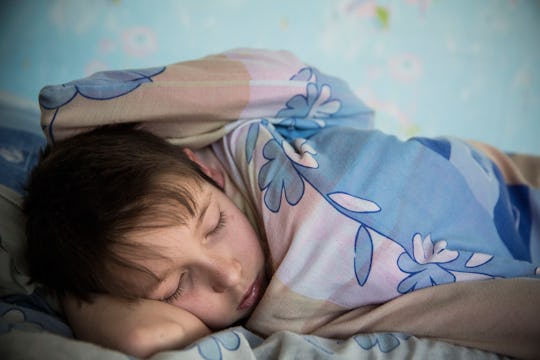 Andrew Burton/Getty Images News/Getty Images
A Regular Bedtime Might Lower Obesity Risk
A new study from Ohio State University released Monday has revealed some interesting correlations between family structures and childhood obesity as kids age. The study, published in the International Journal of Obesity, found that preschool children with regular bedtimes were less likely to become obese by age 11. In addition to examining bedtime habits and regularity, the study also took a look at additional family structure activities, such as exposure to screen time and regularity of meals in children aged 3 to 11 years old. The researchers found additional correlation between regular mealtimes and limited screen time, concluding that healthy family structures are correlated to positive children's health outcomes.
Researchers also found an association between regular family routines and an increased percentage of children who were able to emotionally self-regulate. Those children who were better at emotional self-regulation in turn were less likely to become obese by age 11, according to the study. The study examined nearly 11,000 children in the United Kingdom. By age 3, researchers found that 41 percent had a regular bedtime, 47 percent had a regular mealtime, and 23 percent had a limit of one hour or less of TV or video time per day. By the time these children were 11 years old, 6 percent were obese.
This latest study from Sarah Anderson, associate professor at Ohio State University's College of Public Health, builds on previous work looking at factors that may influence childhood obesity. In September 2016, she published a study that looked at specific bedtimes. Anderson and her team found an association that children with later bedtimes were at a greater risk for developing obesity late in life. A study from the University of Chicago in 2011 found associations between how much sleep children got and obesity rates, finding that children who did not get adequate amounts of sleep were more likely to have higher BMIs than their peers who slept better and longer. However, as researchers have noted over the years, BMI is not a good indicator of health, as it fails to account for muscle mass.
The key takeaway from all of this research is to state that there is a growing body of evidence linking sleep health to obesity and overall health — and that the epidemiological effects could begin as early as childhood. Speaking to Science Daily, Anderson said of her research, "As a society, we should consider what we can do to make it easier for parents to interact with their children in ways that support their own and their children's health."
It's important to note that while these studies may indicate that regular family routines may be most beneficial for children's health, these kinds of routines such as regular mealtimes, regular bedtimes, or limited screen time, may not be available to all families. Children who are food insecure, families who live in food deserts, and children who may be living in less stable homes face the greatest challenges to these routines. If anything, this research confirms what factors can be most beneficial to children during their most developmentally formative years — and as such, public health policy and lawmakers should rally to find ways to support these healthy family routines in their communities for every family.