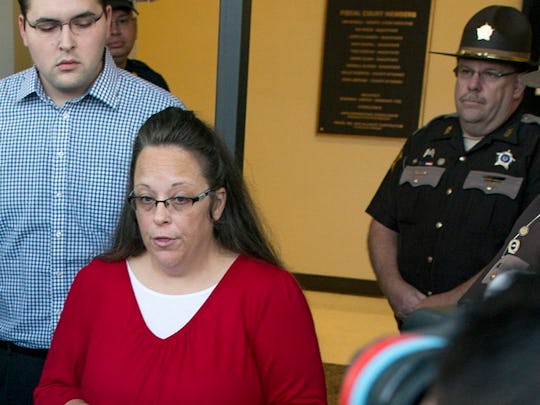 Ty Wright/Getty Images News/Getty Images
Kim Davis Is Attending The State Of The Union, But Here's Why She Shouldn't Be
This is shaping up to be a terrible week. On Monday, I woke up to the news that David Bowie had died, and on Tuesday, I woke up to learn that Kim Davis will be at the SOTU address, according to the Washington Examiner. Yes, Kim Davis, the Kentucky county clerk who was briefly jailed for refusing gay Americans a basic civil right that the Supreme Court said they were entitled to. That one. She'll be hanging out with President Barack Obama on Tuesday night, thanks to the Family Research Council, who the Southern Poverty Law Center classifies as a hate group. But Davis shouldn't be attending the SOTU, because she does not stand for freedom (unless others are losing their rights), acceptance, or equality.
In contrast to this blight, Obama has invited Jim Obergefell, the Cincinnati man whose case led to the Supreme Court legalizing same-sex marriage last June. The San Bernardino Police Chief Jarrod Berguan and San Bernardino County Sheriff John McMahon will also attend the address, according to the Los Angeles Times, and NBC News reported that Black Lives Matter co-founder Alicia Garza will be there. A seat will also be left empty to represent victims of gun violence. This is all good news. But the Washington Post reported that Speaker of the House Paul Ryan has given up his seats to a couple of nuns from Little Sisters of the Poor, the group that's challenging Obamacare's mandate that insurance plans provide birth control.
This is why we can't have nice things, America. It seems that for every deserving guest, such as those affected by recent tragic events and people who have brought about real progress in our nation during Obama's presidency, there are seats being taken up by those who would seek to take away human rights from their fellow citizens under the guise of "religious freedom" (read: Christian freedom, which is most definitely not in jeopardy in 2016, and likely never will be).
Kim Davis is not a civil rights pioneer. Thanks to Obergefell, adults who love each other can now marry in all 50 states. Thanks to Garza (and her Black Lives Matter co-founders, Patrisse Cullors and Opal Tometi), people are finally starting to sit up and take notice of the disproportionate amount of innocent Black men, women, and children who continue to be gunned down in our streets. Thanks to Davis, gay citizens of Rowan County, Kentucky were effectively unable to legally wed during the summer of 2015, because Davis became religious four years ago, after her own fourth marriage, according to Think Progress.
Davis is no hero. Davis' actions flew in the face of the Supreme Court, the Obama administration, and the United States Constitution. Not to mention, she just decided not to fulfill her duty as a government employee. The U.S. has a handy thing called separation of church and state, yet Davis expects her government job to allow her to do something in the name of her religion.
The Kardashians have more of a right to be at the State of the Union address than Davis does. No matter how many times Davis inserts herself into the public eye, no matter how many popes she tricks into meeting her, she will never be a relevant political figure. Her attendance of the SOTU is a slap in the face to the hundreds of Americans who have been fighting for marriage equality and for a state that is truly separate from Christianity. People like Black Lives Matter activists and the San Bernardino police force understand the true definition of the word "freedom."
Images: Ty Wright/Getty Images News/Getty Images (2); Timothy A. Clary/AFP/Getty Images