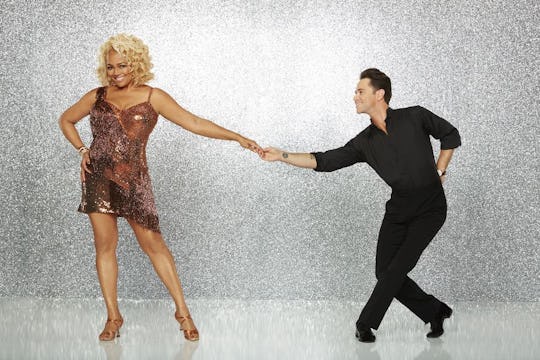 Craig Sjodin/ABC
Kim Fields' Performance On 'Dancing With The Stars' Shows That The Actress Knows How To Move
Well, Dancing with the Stars Season 22 is certainly getting off on the right foot. On Monday's premiere, Kim Fields kicked of Dancing with the Stars with a performance that set the bar high for the rest of the new cast. The former Facts of Life star and current Real Housewives of Atlanta star was the first celebrity up on the new season of the show, but that pressure didn't show one bit, since she was able to score 20 points out of 30 for her first dance. Not only did Fields set the bar high for performers to come, but her good attitude could have received 10s across the board, too.
Fields is partnered with Sasha Farber on Dancing with the Stars Season 22. The two have a great chemistry together and Farber seems extremely supportive of Fields goals on the show. The two were set to do the cha-cha on the premiere, and despite a few hiccups throughout the performance, the two did a great job. Fields' overall score was a 20 out of 30, receiving a seven from Carrie Ann Inaba, a six from Len Goodman, and a seven from Bruno Tonioli. Despite not being a perfect score, Fields was thrilled with her score, as she should be.
For the first week, Fields should be very proud of herself. Although there is still room for improvement, she proved that she has the right attitude to make adjustments in the future. Plus, if she is already getting 20 out of 30, there's no telling how long it will be before she is celebrating that 30 out of 30 with Erin Andrews.