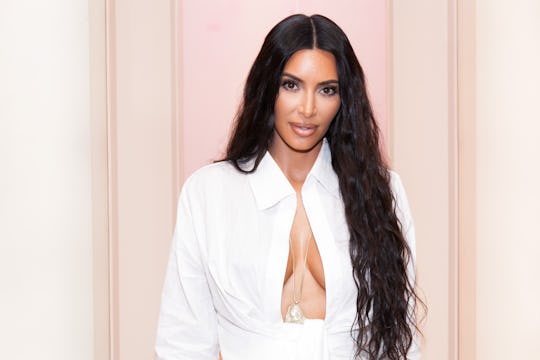 Presley Ann/Getty Images Entertainment/Getty Images
Kim K Asked Tristan To Unblock Her At Khloé's Birthday Party, & It Was So Cringeworthy
Maybe I have an outsized fear of confrontation, but this sounds like the literal worst birthday party ever: Kim Kardashian asked Tristan Thompson to unblock her on social media in honor of Khloé's 34th birthday on Wednesday, according to People, and she streamed the whole awkward interaction live in an Instagram Story. Everyone present appears to be laughing and having a good time, I guess, but what else were they supposed to do? Run and hide? To be honest, that's probably what I would have done.
The video began with Kim addressing her followers while Khloé and Thompson can be seen in the background. "All right guys, what do you think?" she said. "It's Khloé's birthday, should I ask this guy to unblock me?"
A little back story, in case you've somehow escaped the biggest celebrity cheating scandal of the year: in April, The Daily Mail published a video that purports to show Thompson kissing another woman, and later going into a hotel with her. Over the next few days, several more reports surfaced alleging additional affairs, according to People. Thompson and Khloe's reps did not immediately respond to Romper's request for comment. Oh, and this all started just hours before Khloé gave birth to their daughter, True.
Kim went on Ellen soon afterwards and declared the situation "So f*cked up," according to the Huffington Post, a characterization nobody can really argue with. But in a subsequent Live with Kelly and Ryan interview, she said, "The last time I went on TV and I answered some questions about her and I got blocked on social media. And not from Khloe."
Whether it was because of that specific comment or not isn't really at issue. The real awkward part is that after the scandal broke, Khloé chose to stay with Thompson. Now, I don't know her life, and I don't know what may have gone on behind the scenes, but if I were in Kim's shoes, I would be torn as hell. On the one hand, that dude reportedly did my little sister dirty, and he needs to die. But on the other hand, that's my sister's boyfriend, and my niece's father, so I have to be cool to him. I'd probably attend Khloé's birthday celebration and just hide in the kitchen all night, avoiding Thompson, but Kim and I are apparently very, very different people. Surprise.
Thompson chuckled at Kim's request, telling her, "It's only right. I got you," but then the story cut to another clip where she made it clear that she wasn't satisfied yet. "Was that a yes?" she asked him, still facing the camera. Thompson, shown over her shoulder, gave a thumbs-up and said, "Sí." An off-camera voice then shouted for him to "Do it right now!" and Thompson pulled out his phone. As he began to enter his pin to unlock it, Kim craned her neck for a better view. "Wait, what's your code?," she asked him. "Khloé, I'm gonna—" "She knows it," Thompson interrupted. OMG, we already know too much about their relationship. This is utter torture.
But there's more! Shooting from a new angle, Kim looked over Thompson's shoulder as he pulled up his Instagram account. "Wait, what was that?" she said softly. "You blocked Malika and Khadijah, also?" That would be Malika Haqq, Khloé's best friend, and her twin. Oh, and they were sitting just a few feet away. "You guys!" Kim shouted at the Haqq sisters, "Did you know he blocked you, also?" Apparently they did not. As Thompson tried to explain himself, all of Khloé's guests began frantically talking over one another before Kim put a stop to it: "Wait, OK, OK, OK, OK, OK, OK!" she screeched. "This is a birthday party! Let's—" the video cut out again, but the story wasn't over. The final clip shows a closeup of Thompson's screen as he finally completed Kim's request. "Now the question is: should I follow you again?" she mused. I'm completely terrified of her now. Happy birthday, Khloé, and good luck with that mess.