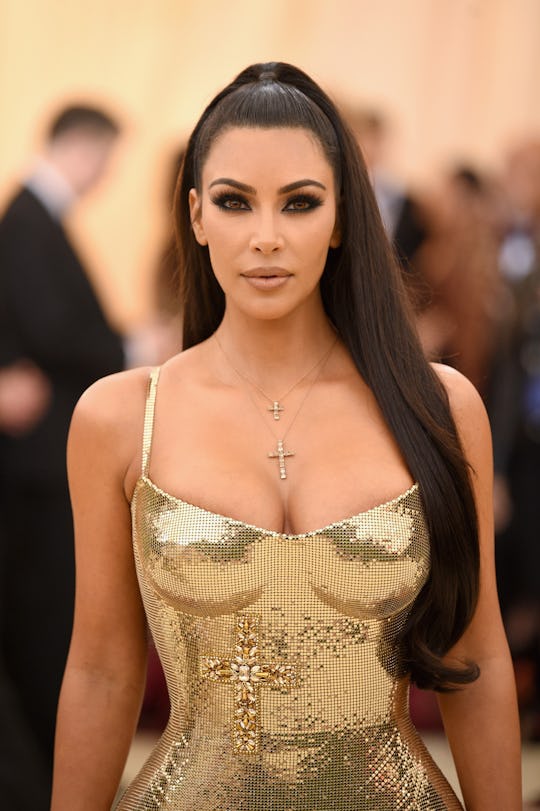 Jason Kempin/Getty Images Entertainment/Getty Images
Kim K Deletes A Photo Of Her Promoting Lollipops After Serious Backlash
Kim Kardashian is no stranger to sponsored content. She is also no stranger to controversy. And on Wednesday, these two things came together in a rather unfortunate way for the reality star. After her latest #sponcon was met with an onslaught of backlash on Instagram, Kim Kardashian deleted a photo of herself promoting lollipops. And if you're thinking, "What could be wrong with lollipops other than refined sugar?" you're in for a rude awakening.
The suckers in question are appetite suppressant lollipops, made by the brand Flat Tummy Co. Kardashian has already taken down the post, but of course, plenty of people scored and shared screenshots beforehand. "You guys... @flattummyco just dropped a new product. They're Appetite Suppressant Lollipops and they're literally unreal," Kardashian captioned a photo of herself sucking on one, reported BuzzFeed.
"They're giving the first 500 people on their website 15% OFF so if you want to get your hands on some... you need to do it quick! #suckit," she added. Representatives for Kardashian did not immediately respond to Romper's request for comment.
It goes without saying that an appetite suppressant is a controversial product. Many tweeted about Kardashian's #sponcon, explaining why they thought the product was problematic.
Actress Jameela Jamil of NBC's The Good Place said that instances like this make her "feel actual despair over what women are reduced to."
Some people criticized Kardashian for promoting such a product, calling her things like "trash" and "vile."
Others pointed out that a lot of Kardashian's fan base is young women and girls, and some suggested that this could have a negative impact on their body image and eating habits.
And one Twitter user posited that people seemed to have a greater issue with Kardashian advertising the product, as opposed to with the product itself.
The above tweet raises an important point. Is it more noteworthy that Kardashian is promoting appetite suppressants, or that they exist at all? Appetite suppressants and other diet drugs have been around since the 1940s, and they even used to be frequently prescribed by doctors, explained Dr. Suzanne Koven in a 2013 piece for The New Yorker. However, so many people became addicted to amphetamines in the 1940s that the addiction was later labeled an epidemic. In the 1990s, a weight-loss drug called fen-phen emerged, but it was taken off the market because it reportedly caused heart defects, reported The New York Times. Koven explained that diet drugs that exist today are much less effective and still come with side effects, despite being more regulated and safer, so doctors rarely prescribe them.
But, when doctors did regularly prescribe appetite suppressants, it was only to those with certain body mass indexes or "obesity related risk factors" such as type 2 diabetes and high cholesterol, according to The Independent Pharmacy.
That being said, Flat Tummy Co's website explains how the lollipops supposedly work, explicitly distancing the product from diet drugs by calling it "natural." The website reads:
Our Lollipops feature SATIEREAL, a clinically proven safe active ingredient extracted from natural plants. It works to maximise satiety (which helps control food intake, cravings and weight). So with 1-2 pops per day, you'll have your hunger under control and cravings in-check. Just have one whenever you start to feel hungry and it'll help hold you over until your next meal!
Whether or not an appetite suppressant is "natural," it does ask the body to do something that isn't actually natural for it. When our bodies feel hungry, they are telling us that we're supposed to eat. It's much better to listen to your body, and to satisfy hunger with nourishing, healthy food than to force your appetite away. Romper reached out to Flat Tummy Co for more information on the product, but did not immediately hear back.
Flat Tummy Co.'s lollipops do place value on having a "flat tummy" (it's in the name), and Twitter users argued that when young women and girls see someone they look up to like Kim Kardashian promoting them, they might start to think that they are less valuable as humans if they do not fit into a certain body type. Kardashian deleting the post means she (or at least her social media team) may have acknowledged the potential body image impacts the post could have, and that's a step forward.