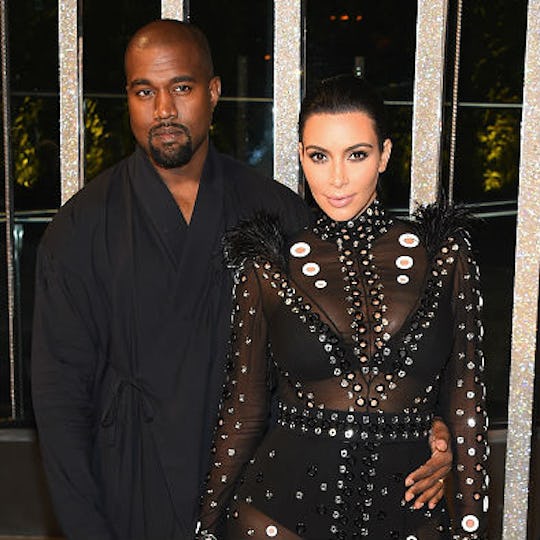 Kim & Kanye Haven't Chosen A Name For Their Son, So Here Are 4 Naming Tips To Help Them Out
It's been a day since Kim Kardashian an Kanye west welcomes their second child, and the baby boy is still without a name. Or, at least, KimYe hasn't shared the name with the masses. Perhaps they are trying to keep the news private for now. Still, the question remains: What is Kardashian son's name? Will the couple choose another direction — or will they choose to head in another direction from North's name choice?
Well, you shouldn't worry about the baby being nameless just yet. After all, the pair took nearly a week to settle on their first child's name, North West, and Kardashian seems to think the second go around will be an equally lengthy process. "It's the last thing Kanye and I did when North was born," she told People Magazine. "We didn't name her for like seven days. I feel like it will just come to us."
People also reported, however, that Kardashian plans on using her late father's name — Robert — for the baby's middle name. Looks like everything is sorted except for the first name. To help them move the process along, here re some baby naming tips for Kardashian and West, as well as any other parents out there struggling to pin down a baby name.
1. Decide If You Want Common Or Unique
As someone with a rather uncommon name — at least in North America, where I'm based — I personally love it. People don't have to search through reams of pages on LinkedIn or Facebook to find me, and they generally tend to remember my name. That, however, can be both a blessing and a curse. A university professor that once remembered my paper because of my name also remembered when I didn't answer during roll call. Whoops.
Name your kid because you love the name, not because you think it's a unique, hipster choice, and you should be good to go. Ultimately, your child will have their own personality, and whether their name is common or unique, people will remember them for who they are, not for what they're named.
2. Consider Sound and Spelling
Make sure you take into account the pronunciation and spelling of your baby's name. And if you choose to distinguish your child's name through spelling, you may be setting your child up for difficulties later in life. "Brytnie" still sounds like "Britney" — making their name indistinguishable in day-to-day life, but a nightmare to spell out for anything practical.
3. Ignore Name Associations
Remember that How I Met Your Mother episode where Lily and Marshall can't decide on a name for their tot? Every name Marshall thought of reminded Lily of a terrifying student — from Johnny, who ate the class goldfish, to Rob, who chose to "honka, honka" her chest. Don't fall into the trap when thinking of your own moniker. Remember, you're talking about a brand new human who will be spending a lifetime with you. All of your associations with your baby will quickly knock out any old name associations you may have hated.
4. Look Towards The Future
As your little one grows up, his or her name will have to as well. British chef Jamie Oliver chose a unique assortment of names for his children, including Poppy Honey, Daisy Boo, Petal Blossom, and Buddy Bear. Although I think Poppy is a great name and one that I'd be happy to carry into my professional life, the others might be harder to adapt to outside of childhood.
We're eager to see what West and Kardashian name their second child, and hope they find something that fits their son perfectly.
Images:Larry Busacca/Getty; Giphy (3); Jools Oliver/Instagram,