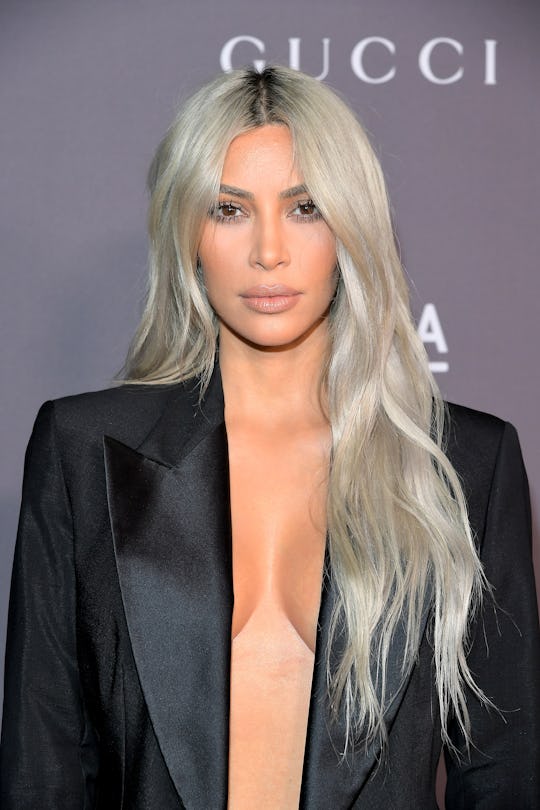 Charley Gallay/Getty Images Entertainment/Getty Images
Kim Kardashian Accidentally Reveals Baby No. 3's Sex, & You Can Freak Out Now
Fans began speculating over the sex of Kim Kardashian's soon-to-be-born third baby after the star threw a pink, cherry blossom-themed baby shower Saturday, but now they officially know for sure. Kim Kardashian accidentally revealed she's having a girl in an interview with Ellen DeGeneres, according to E! News, and it was the sweetest story.
Kardashian has remained fairly quiet up until now when it comes to discussing the details of her third child's arrival, and likely for very good reason: the reality star and her husband, Kanye West, are welcoming the child with help from a gestational surrogate, and it makes sense that they'd want to protect her privacy. But when Kardashian visited The Ellen DeGeneres Show Wednesday, she couldn't help but gush over her family's excitement over the impending arrival of its newest member — letting confirmation of the baby's sex slip in the process.
Opening up about how her children, North and Saint, were reacting to the idea of having another sibling, Kardashian said that her son didn't quite understand what was going on, especially since, this time around, she didn't actually have a pregnant belly to help explain the situation. As for 4-year-old North? She sounds pretty excited to have a baby sister on the way — especially since it means more toys to play with.
Kardashian explained that she'd ultimately opted to throw the lavish baby shower in an effort to help North get excited about the infant's arrival, as well as to better understand exactly what was going on. And from the sounds of it, it worked like a charm. Kardashian told DeGeneres,
We had a baby shower over the weekend. I thought, 'I really do want to have a baby shower because I want her to feel that something's coming and for her to really understand it. People brought toys and gifts. She was opening them all up the next day and she said, 'Mom, Baby Sister's not here. I think I need all of her toys in my room. I'll play with them and just make sure they're OK for Baby Sister.'
As sweet — and clever! — as North's reaction was, Ellen couldn't help but point out that Kardashian had just confirmed that the baby would be a girl, to which Kardashian laughed and replied, "Oh! I guess!" And while the celeb mama said that so far, North seemed totally down with having a little baby girl join the family, she acknowledged that it'd be hard to know for sure until she actually arrives:
Yes, it is [a girl]. North is really excited about that. She's so excited. Let's see if it lasts. I did explain to her, 'OK, at 4:00 in the morning, when you come in my room, I'm going to have to be with Baby Sister — I have to feed her.' We'll see how it goes.
Kardashian and West might still have to wait a little while to find out exactly what their children's reactions to their new baby sister will be, but from the sound of it, there will be no shortage of love and support from their friends and family. According to People, all of Kardashian's sisters attended her recent baby shower, along with friends Malika and Khadija Haqq, hairstylist Jen Atkin, and Chrissy Teigen — who reportedly even brought along a homemade cake. Kardashian matriarch Kris Jenner was also said to have raised a champagne toast in her daughter's honor, and spoke about how excited she was to become a grandmother again.
And while it sounds like the group had a fantastic time celebrating the newest Kardashian-West, Kardashian told DeGeneres that she also took the opportunity to get their help with baby name suggestions, according to E! News. Admitting that she and West were "freaking out" about not having a name, Kardashian said that, instead of playing traditional baby shower games, she had each of her guests contribute a suggestion.
So far, it doesn't sound like anyone came up with the right baby name, but she did say that North had an opinion on the matter, according to E!:
You know what's so funny? I'm not going to name her Star, but my daughter picks that name all the time. So, she got a toy and it's a llama — Baby Sister's toy that she took — and I said, 'Well, OK, what do you want to name the llama?' She said, 'Star—Star West!' So, she names everything Star West.
For now, the world may still have to wait to learn the name the couple ultimately agrees on, but now we at least know for sure that there will be another Kardashian-West baby girl arriving soon. And while the reality star might often seem to live the kind of over-the-top life that most can only dream of, hearing her finally open up about her daughter's impending birth — and the way her children are adjusting to it — is actually totally relatable. And while it makes complete sense that Kardashian has kept discussions about her third child to a minimum until now, the truth is that it's pretty exciting to finally hear her open up about her expanding family.
Check out Romper's new video series, Romper's Doula Diaries:
Watch full episodes of Romper's Doula Diaries on Facebook Watch.