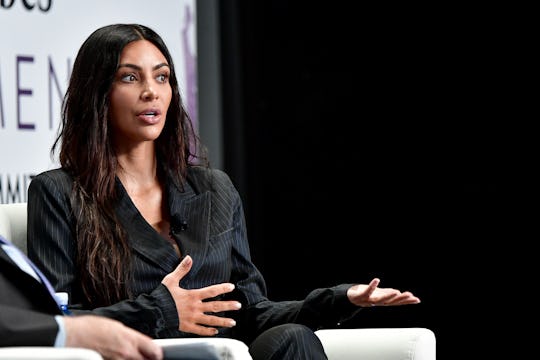 Dia Dipasupil/Getty Images Entertainment/Getty Images
Kim Kardashian Asks Twitter To Name North's Puppy
Naming an adorable puppy is no easy task, and Kim Kardashian is seeking the internet's help. The reality star recently got her daughter, North West, a photogenic ball of fluff who has already taken social media by storm. Now, Kardashian has asked Twitter to name North's puppy. And the choices she gave are a little bit bizarre.
Kardashian posted the puppy naming poll on her Twitter account over the weekend. Apparently, she and North have narrowed the choices down to four. The newest member of the family will be going by either Goldie (cute!), Sushi (mmm, I'm hungry), Peachy Pop (Peaches for short), or... Baby Jesus. According to an earlier Kardashian tweet, 4-year-old North came up with the names herself, so that explains the creativity and range.
Your vote has much more weight here than it did in, say, the presidential election, so consider carefully before you weigh in. After all, you'll be seeing this name around the internet a lot in the coming years. As of now, around 200,000 people have expressed their preference in the Great Puppy Poll of 2017, and Peaches is the frontrunner with 29 percent of the vote. But Baby Jesus and Sushi are not too far behind, and although Goldie is in last place, it still has an impressive 21 percent. Only a few hours left, folks.
Thank goodness for naming polls, because sometimes it's nice to vote on something that won't end up actually affecting people's lives in potentially catastrophic ways. But also, for those who have to live with the name, asking the internet for help can be a risky decision. Let us never forget that when the British government opened up the naming of an expensive polar research ship to social media, the world ended up with Boaty McBoatface.
North, Kardashian's daughter with Kanye West, received her still-unnamed puppy earlier in June, as part of her birthday celebration. (Other parts of the celebration included a super-cute Moana-themed party.) Her cousin, Penelope Disick, got a Pomeranian puppy as well, which she promptly named Honey. And yes there is a picture where the two puppies appear to be kissing.
According what a source told People, Kardashian is hoping that little Peaches (or Baby Jesus or Sushi or Goldie) will teach North about responsibility. The Kardashian West house is getting a lot more full, with the puppy, North's little brother, Saint, and a third child that will reportedly be carried by a surrogate.
Results of the poll should be announced soon, so keep your eyes peeled.