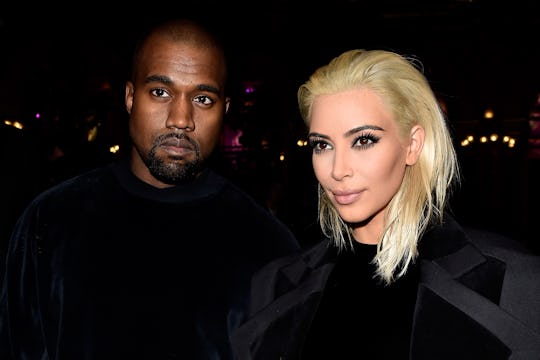 Pascal Le Segretain/Getty Images Entertainment/Getty Images
Fans Have Some *Incredible* Baby Name Theories After Kim Kardashian's Latest Instagram
Kim Kardashian took to her app Tuesday to announce that she and Kanye West welcomed their third child when Kim's surrogate gave birth to a healthy and beautiful baby girl, and now fans think that they may be onto something with a few Kim Kardashian baby name theories, according to Hello! magazine. Though fans would like to think they've figured out Kardashian's mysterious Instagram, they might be jumping to conclusions.
The couple hasn't shared any name details so far, and Kanye actually said in a recent interview that he has no idea what to name their new daughter, according to The Daily Mail. But then on Wednesday Kim's shared a post sans caption, and the fan theories began.
One commented that "the babies name is probably Paris because that's where Louis Vuitton was made and she posted this giving us a hint." Another commenter did some serious math: "Kim and Kanye both start with K, and L as in Louise follows K in the alphabet, and their last name is West, which starts with a W, and Vuitton (V) comes before W and will mean 5 because she is the fifth member of the Kardashian west family." Others are throwing "Louis," "Louise," "Clover," "Vuitton," "Elle," "Vie," "Diamond," and "Elvie" (as in LV, phonetically) out there.
Elvie seems to be quite popular, given how it ties into the couple's favorite designer and it starts with an E for "east." "She already has a north west, south west, now and East west lol," one fan pointed out on Kim's Instagram. Others also speculated that Kimye might be looking to fill out the compass.
Kim and Kanye are already parents to two children, North, 4, who they welcomed on June 15, 2013, and Saint, 2, who they welcomed on Dec. 5, 2015, according to E!. Some fans have written on Kim's Instagram that they wouldn't name their third child Louis because it's a boy's name, but Kim and Kanye haven't stuck to gender norms when it comes to baby names before anyway.
Many fans have also taken to Twitter with predictions that they'll name their daughter Donda, after Kanye's late mother who died of a heart attack in 2007, according to MTV. So now fans are going so far as to say, "'I see lots of Louis Vuitton and lots of Donda suggestions here....I think we can all agree that if this baby isn't named Louis Vuittonda it's a completely missed opportunity."
That said, The New York Times also announced on Wednesday that Kim Jones, the artistic director of men's wear at Louis Vuitton, will be stepping down after seven years. And Kim, who has made her adoration for the French fashion brand quite clear (especially via a snap of her garbage bins that actually have the Louis Vuitton print on them, according to Elle), might have just been posting in response to the news. Her 'gram might not have anything to do with baby names after all, and eager fans could just be jumping to conclusions.
But if Kim and Kanye don't go with something Louis Vuitton-esque, fans have some other creative suggestions. One tweeted, "If Kimye don't call their baby Go, Wild, Key or John, it's a huge opportunity missed #kimyebaby." A second one added, "If Kim Kardashian doesn't name her baby Wild West what's the point?"
Apparently, Kimye are still thinking things over. When Kim was on The Ellen Show recently, she did not disclose a name and instead said that her and Kanye were "freaking out" because they didn't have any ideas. She also admitted that she is a fan of "easy to spell, one syllable" names.
I wonder if they're keeping up with all of these theories and suggestions for help. But I also have to imagine that they're at home paying more attention to the real Kimye baby than they are the hashtag #Kimyebaby on social media. Anyway, I vote Wild West, too.
Editor's note: After publication, we discovered this article did not meet our editorial standards. There were portions that did not correctly attribute another source. It has been updated to meet our standards.
Check out Romper's new video series, Romper's Doula Diaries:
Watch full episodes of Romper's Doula Diaries on Facebook Watch.