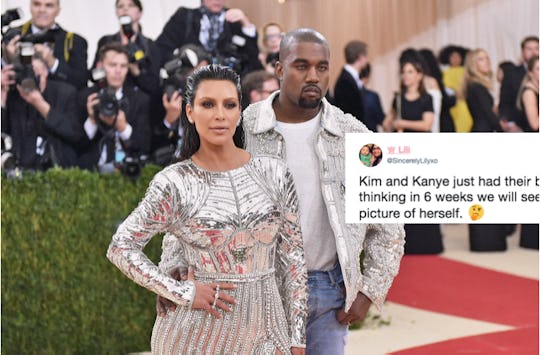 Mike Coppola/Getty Images Entertainment/Getty Images
Here Are The Wildest Theories Following The Birth Of Kim K's Daughter
It's official: the third baby West has made her arrival. On Tuesday TMZ reported that Kim Kardashian-West and Kanye West welcomed their third child, a baby girl, via surrogate. But the internet isn't all that convinced. Sure, sure, there's a baby, but "via surrogate"? The Kim Kardashian baby theories circulating the web right now will leave you questioning everything you thought you knew, including the details of the never-ending cycle of Kardashian/Jenner/West news. Welcome to 2018, kids.
On Tuesday, Kim announced the arrival of her third child via her app, writing:
We are incredibly grateful to our surrogate who made our dreams come true with the greatest gift one could give and to our wonderful doctors and nurses for their special care. North and Saint are especially thrilled to welcome their baby sister.
E! News reports that Kim added the date and time of her baby girl's birth, including her weight: Jan. 15 at 12:47 a.m. PT, weighing 7 lbs., 6 oz. And while the news of the baby's healthy arrival is worth celebrating, fans aren't entirely convinced that Kim and Kanye's child was born via surrogate. In fact, they have a few theories of their own, and the majority include Kim's sister, Kylie Jenner.
Kim & Kanye Will Raise Kylie's Baby
As those who don't live under a rock are sure to know, Kylie Jenner is reportedly pregnant with her first child, though she has yet to confirm the pregnancy in any capacity. So, for now and until the 20-year-old reality television star says otherwise, it's just a rumor. Which is why fans are *convinced* Kylie is Kim's "surrogate," and Kim and Kanye are going to raise Kylie's biological child as their own. Kylie will emerge from her social media blackout sans pregnant belly, and convince the free world that she was never pregnant to begin with. Again, that's the theory. And one that circulated the internet almost as soon as Kim announced the birth of her third child.
Kylie Is Still Kim's Surrogate
The biggest "theory" going around is that Kylie is actually Kim's surrogate. While this has seemingly been debunked by a description released, someone who has allegedly been a surrogate before, fans are still convinced. For what it's worth, Kim's surrogate gave birth a mere days after reports came out that Kylie Jenner had gone into labor (for a by that she hasn't even confirmed, yet). So, while it's a bit of a stretch, fans are taking all the evidence and coming up with this old chestnut.
Kim & Kanye Are "Covering" For Kylie
Which brings us to the next theory: that Kim and Kanye didn't plan on having a third baby, until Kylie found out she was pregnant. Problematic guessing aside (because honestly, people, this is some personal stuff we're just all-of-a-sudden assuming about people we *think* we know because we watch them on television), it must be said that at least this theory paints Kim and Kanye in a positive light: which isn't something that happens often to the ridiculously famous couple. But, apparently, people are convinced that Kim and Kanye simply decided to adopt Kylie's baby, and weren't really planning on expanding their family until Kylie found out she was (reportedly) expecting.
Of course, it's worth nothing that this particular theory also dismisses Kim's prior pregnancy complications, her multiple statements regarding her wishes to expand her family, and her need for a surrogate to ensure that she could have another child without putting herself, or her child, at risk. But hey, this is the internet, people. We don't have time for facts and stuff.
It's fun to theorize, to be sure, and let's be real: anything is a welcomed distraction from the current political climate. But it's important to remember, always, that the choice to procreate, become a mother, expand your family, and put your body through the difficulties of pregnancy, childbirth, and postpartum are personal. The decisions Kim and Kanye have made are just that: theirs. The choice to find a surrogate, whoever that surrogate may be, is a private decision made with the best interest of all involved at heart. So in the end, the details are minuscule when compared to the fact that another Kardashian-West baby is in the world, and everyone is healthy, happy, and safe.
Check out Romper's new video series, Romper's Doula Diaries:
Watch full episodes of Romper's Doula Diaries on Facebook Watch.