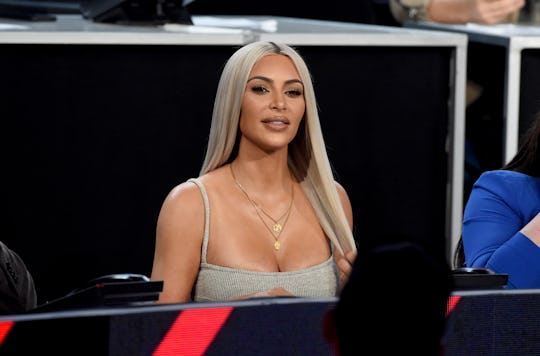 Kevin Winter/One Voice: Somos Live!/Getty Images Entertainment/Getty Images
Kim Kardashian's Updates On Chicago Are A *Little* Sparse
Kim Kardashian rang in the new year right when she announced that her surrogate had given birth to her third child, a daughter named Chicago just a few days into 2018. It's an understatement to say that people are pretty into Kardashian's life — her family's reality show is titled Keeping Up With The Kardashians, after all. So when Kardashian waited a while to reveal the first photo of Chicago, people were dying to know more. But since Chicago's birth, Kardashian's baby updates have been a little sparse. Luckily, all of the updates about Chicago are satisfying enough as it is.
On Jan. 16, Kardashian announced that her and husband Kanye West added one more into their family — their surrogate gave birth to their third child according to Reuters. The baby girl joined her older siblings — a sister, North, and a brother, Saint — in rounding out the Kardashian-West family. In a formal announcement on her app, Kardashian could not have been any more excited about her baby's birth and thanked their surrogate for making their "dreams come true" and giving them the "greatest gift." "Kanye and I are happy to announce the arrival of our healthy, beautiful baby girl," Kardashian wrote, according to Reuters.
Just four days after the birth announcement, Kardashian announced that her and West had named their newborn daughter Chicago after West's hometown of Chicago, Illinois. The updates about Chicago that have followed since then are not as exciting as knowing that Kardashian's surrogate gave birth or finding out her unique name but are still pretty fun nonetheless.
A few weeks after Chicago arrived into this world, Kardashian gave fans a major update about Chicago in a subtle way. Fans were able to see Chicago for the first time when Kardashian's sister, Kylie Jenner, announced that she had been pregnant and had given birth at the beginning of February through a YouTube video. In the video, Jenner documented her whole entire pregnancy, including visits from some very special guests — like Kardashian and Chicago West. This was the first time that Kardashian fans had ever seen Chicago and it did not disappoint. Chicago looked so cute swaddled up in a blanket while Kardashian looked on — and this glimpse at Chicago made fans hungry for more updates.
Although fans had seen Chicago in Kylie's pregnancy video, Kardashian gave them a little more clarification about which of her children Chicago resembled most — if it wasn't clear enough from the video already. "She looks a tiny bit like North and a tiny bit like Saint but definitely her own person!," Kardashian wrote to a fan on Twitter.
In the same tweet, Kardashian also gave a vital update about Chicago's personality — she is super sweet and the "best baby." For as much chaos as newborn babies bring, the fact that Chicago is super sweet and not driving Kardashian to tweet about her all the time is a pretty big update in and of itself.
If people really wanted to compare Chicago to North and Saint after reading that tweet, Kardashian delivered just two days later with the first official photo of Chicago posted to her social media accounts.
The selfie, taken with a super cute animal filter, is the first and only photo that Kardashian has posted of Chicago. Kardashian was right — the baby does look like a perfect combination between North and Saint. On the same day, on her website, Kardashian gave fans a look at the items inside of Chicago's nursery, giving them an update on what Chicago's room might look like.
But even though it seems like Kardashian is always on social media, she refrains from posting things about Chicago. But you have to give her some slack — Chicago is a newborn baby and newborns require a lot of attention to themselves, not social media. Kardashian will provide more updates on Chicago when Chicago is older and Kardashian is ready. Luckily, these updates about Chicago so far are pretty satisfying.