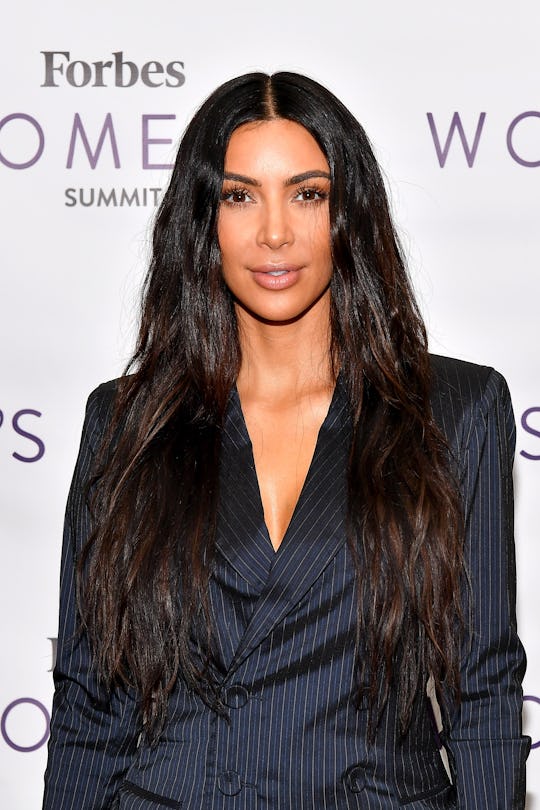 Dia Dipasupil/Getty Images Entertainment/Getty Images
Kim K Called North "Hide & Seek Champ," & The Internet Hilariously Made It About Kylie
Early Tuesday morning, Keeping Up with the Kardashians star Kim Kardashian shared a way-too-cute picture of her young daughter tucked into a footstool with her hair peeking out. In her caption, Kim called North West the "hide and seek champ" — which would have been all well and good except for the fact that a different woman in the family has managed to disappear from public view for months now. The internet was quick to call Kim on her decision to crown West "hide and seek champ," and they did so in the funniest way possible.
As most people are aware of by now (begrudgingly or not), Kim's younger sister, Kylie Jenner, has managed to pull off the mother of all disappearing acts in recent months. Ever since TMZ first launched reports that Jenner was pregnant in September, the youngest of the Kardashian-Jenner clan has become an unexpected expert at remaining out of the limelight (and posting photos that casually keep a potential baby bump out of the picture on social media).
Jenner's silence on her potential pregnancy has, of course, driven her fans insane, and every post shared by her famous family has eventually led to discussion about Jenner by fans. Why wasn't Jenner in the Kardashian Christmas card? Why was only her face in a Snapchat picture shared by her sister? Where is Kylie Jenner?
Jenner's sisters and her boyfriend, rapper Travis Scott, have remained mum about the 20-year-old's reported pregnancy as well. When Scott was asked about the rumors in a recent interview with Billboard, he refused to address the news, saying, "I don't want to talk about that. They're just guesses. Let them keep fishing."
It's the sort of answer — similar to Khloé Kardashian's recent refusal to answer questions about Jenner on the Ellen Degeneres Show — that's left fans even more curious than before. So it should perhaps come as no surprise that fans were not having Kim hand off the title of hide-and-seek champ to her daughter so easily. Nope, Kim, that title is clearly reserved for Jenner and Jenner alone. West is cute and all, but we have priorities here.
Here's some of the best answers gathered up:
Until the world learns whether Jenner is pregnant, it seems, no one cares too much about any of the other sisters' life updates (or cute pictures of their kids). Fortunately, it seems like Jenner might finally reveal a confirmation to the world on Keeping Up with the Kardashians soon: the reality TV show will feature a two-night special this week "full of Kardashian surprises," according to Entertainment Tonight.
"The family's got news so big we need Sunday and Monday just to cover it," the announcer in the preview clip said.
That could mean we'll either see Khloé's pregnancy announcement — Khloé told fans on Twitter that the moment was definitely filmed — or Jenner's secret will finally be laid bare. Or both, judging by the preview clip that aired on Sunday night: in it, fans got to see all of the sisters seemingly reacting to big news.
(As a skeptic, however, I have to make the following prediction: the two-night special is entirely going to focus on Khloé's pregnancy, while teasing more big news for later. After that, Keeping Up with the Kardashians will announce another big show event that will finally confirm whether Jenner is pregnant. If, after all of that, Jenner is not pregnant, people might just take to the streets after such a Black Mirror-esque deception.)
For now, though, it seems like Jenner (and her possible baby) will continue to reign as hide-and-seek champion. North, we'll give you second place. Maybe.
Check out Romper's new video series, Romper's Doula Diaries:
Watch full episodes of Romper's Doula Diaries on Facebook Watch.