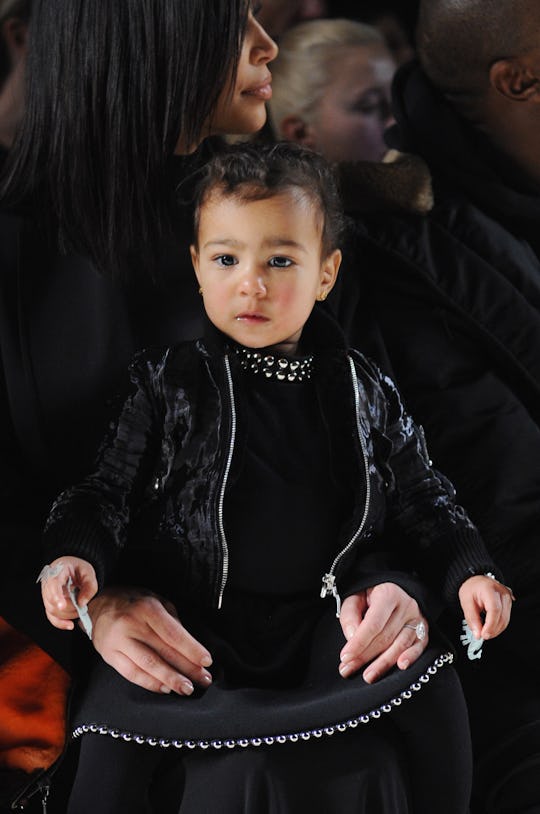 Craig Barritt/Getty Images Entertainment/Getty Images
Kim Kardashian & Chrissy Teigen Teamed Up To Fight North's Critics In Twitter Smackdown
Internet trolling is hardly anything new. For celebrities like Kim Kardashian and Chrissy Teigen, they've been the subject of everything from genuinely witty commentary to downright hateful vitriol. But there's a level of internet trolling that seems to be on the rise — and that's trolling celebrities' kids. Here I thought kids were always off limits when it came to public scrutiny, but in the era of Snapchat and Twitter, everyone with an opinion now has their own online megaphone. The latest subject of internet scorn? Three-year-old North West, the eldest progeny of Kimye — because that's totally reasonable. Thankfully Kardashian and pal Chrissy Teigen teamed up to take on North West's internet haters — and did so with stunning Mama Bear style.
On Saturday, Kardashian tweeted that little Nori is a budding fashionista, even at just 3 years old: "We make all of her clothes so she picks the fabrics at fabric stores!" First of all: How cool. Second of all: Adorable. But it didn't take long for Twitter to clutch its pearls and start lobbing the criticism onto Kardashian and her daughter.
"These are the kind of things why people hate you," said one Twitterer. Lovely. But Mama Kim ain't havin' it, and swung back with her own virtual punch:
Well played, Mrs. Kardashian West, well played. Clearly, Twitter isn't her first internet rodeo. Gal pal Chrissy Teigen joined in on the fun, too:
To which I say:
I've never really understood the concept of sh-tting all over random people on the internet — much less celebrities — just for funsies. Could you imagine if people just randomly shouted such spiteful comments at each other walking down the street? (Yes, I'm aware this sometimes happens in real life.) But all kidding aside, it's so easy to lob insults when donning an internet invisibility cloak. Truthfully, I don't know how celebs like Kardashian and Teigen put up with all the internet outrage.
But as both of their Twitter responses reveal, they're people, too. I know: Crazy to imagine that beautiful celebrities emit body odor, excrete poop, and possess real human emotions like the rest of us — and for women like Kardashian and Teigen, they're moms too. Unfortunately for celebrity moms, they also have a perpetual internet spotlight cast on them at all times, leaving their every public parenting moment up to scrutiny and scorn.
Good on Kim for taking the high road, and for her friend to have her back, too.