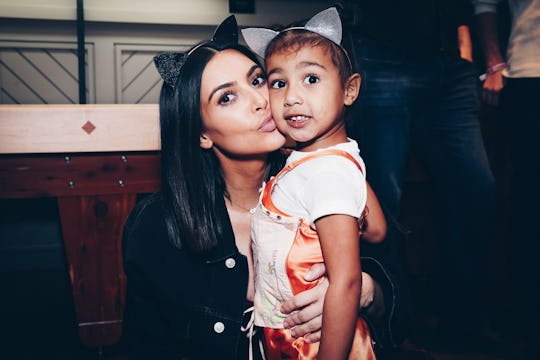 Handout/Getty Images Entertainment/Getty Images
Kim Kardashian Is Actually Very Strict About North West Straightening Her Hair
Whenever Kim Kardashian shares a picture of one of her three kids, she typically she receives a handful of mom-shaming comments. Case in point: Kim Kardashian had to clarify how many times a year North West straightens her hair after some fans criticized a sweet picture of the 5-year-old with Kanye West. North's hair is straight in the adorable snap, and some people chided Kardashian for supposedly "ruining" her natural curls. Sigh.
When North was only 6 months old, fans accused Kardashian of waxing her eyebrows. The scrutiny eventually got so bad that Kardashian was forced to address the rumors on Twitter. "Do people really think I would wax my daughters eyebrows so young? Come on, I'd wait until she's at least 2 1/2!" Kardashian joked, according to the Daily Mail. Of course, Kardashian's response to the drama was nothing more than playful sarcasm. "I'm kidding!!! Its pretty sick for people to insinuate that I would wax my daughters eyebrows," Kardashian added. "They are thick, natural and amazing!" Well-said.
Sadly, people continue to question Kardashian about her parenting choices where it concerns North's looks. Want proof? Look no further than this tweet on Tuesday questioning Kardashian's decision to let North straighten her hair.
"Don't straighten her hair too much it'll ruin her curls," a person captioned a shot of North hugging West, according to Twitter. "I did that to my hair and ruined it but I'm finally getting my natural curly hair back."
Although the fan probably meant no harm by the comment, it's understandable why Kardashian could have perceived it as offensive. It goes without saying Kardashian doesn't need unsolicited advice about how to raise her child, and she would never intentionally put North in harm's way.
Following the fan's remark, Kardashian took it upon herself to clarify her rules about North's hair straightening. "She is allowed twice a year, on her birthday and birthday party! This pic was taken back in June on her bday," Kardashian responded, according to Twitter.
Most parents agreed that Kardashian is qualified to decide how often North is allowed to straighten her hair. Kardashian is North's parent, after all, and many parents have set rules regarding their children's grooming habits.
"I can't believe people are telling you what you should and shouldn't do with YOUR daughter's hair.. it's absolutely ridiculous!" a fan penned, according to Twitter. "I'm sure as a mother you know what's best for your baby girl. Northie looks gorgeous with any hairstyle xoxo."
"I'm not even sure why you addressed this," someone else added. "You can do whatever you want with her hair."
"I am appalled at so many Mommas and non-Mommas are trying to tell Kim how to do her "own" daughter's hair," one person commented. "It's her prerogative to straighten it or allow it to be in it's more natural curly style. We have too many people being so critical. It's really sickening. Ugh..."
This isn't the first time Kardashian received backlash for straightening North's hair. Back in June, some people flipped out when North was spotted in New York rocking a straightened ponytail. "She (North) wanted to try straight hair so I said she could try it for her birthday party and then if she liked it, she could do it in New York for her birthday," Kardashian explained to BuzzFeed following the criticism. "It's very limited to just that. And she knows that."
Sounds harmless to me. There's nothing wrong about a kid experimenting with style, whether it be with makeup or clothes, for example. It's nice to hear Kardashian is giving North the chance to test out new looks within reason. Keep doing your thing, North.