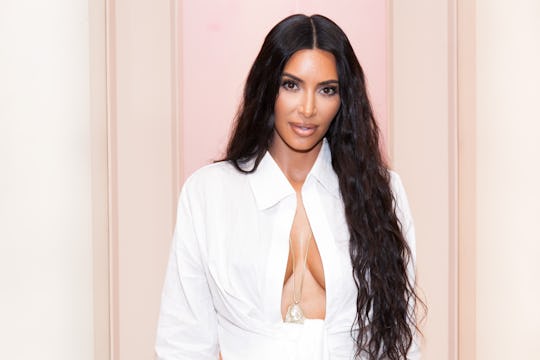 Presley Ann/Getty Images Entertainment/Getty Images
Kim K. Didn't Give Mom-Shamers The Chance To Critique This Sweet Photo Of Saint & Chicago
Sadly, Kim Kardashian is well-versed in the cruel world of mom-shaming. Kardashian regularly receives comments about her so-called bad parenting decisions, like the time she let 5-year-old North West straighten her hair or when she let the adorable girl wear a bikini. And considering the backlash is constant, it's no surprise Kim Kardashian schooled mom shamers before they had the opportunity to slam this new photo of 2-year-old Saint and 7-month-old Chicago West. Although Saint appears to hold Chicago on his shoulders in the pic, Kardashian was the one propping the infant up. Take that, critics.
Mom-shaming is a song as old as time, especially when you're as famous as Kardashian. If you Google Kardashian and "mom-shaming," you'll find countless examples of how strangers question every little thing she does with her kids, like the time she supposedly put Saint in the wrong type of car seat. Although Kardashian was in the right regarding the situation (Saint was the appropriate weight and height for the seat), she admitted she's open to criticism if it comes from a genuine place. "It's so crazy that people are so quick to mommy-shame when it's like, I'm just learning it, too, so if anything, maybe people should be like, 'Hey Kim, mom tip: Here is what you should be doing,' not like, 'Oh my god, let's attack her,'" Kardashian penned, according to Glamour.
As unfortunate as it might be, however, Kardashian is keenly aware that most people don't visit her Instagram account to offer friendly words of encouragement. And it's this depressing reality that led Kardashian to put a disclaimer on this new snap of Chicago and Saint. "Wild Hair Don't Care. *Don't worry I'm holding her up from the back," Kardashian captioned a photo of Saint "holding" Chicago on his shoulders, according to Instagram.
Following Kardashian's word of caution to her haters, supporters chimed in with messages of sympathy.
"@kimkardashian, its a shame that you have to explain yourself about holding baby Chicago but in this," someone wrote, according to Instagram.
"SAD she even has to write that !!! people are miserable and don't use common sense we can see her arms back there I wouldn't have said anything @kimkardashian," another person chimed in.
"It's sad you have to say your holding her up!" one fan commented.
Others praised Kardashian for getting ahead of the backlash.
"Yes kim tell them mom shamers," a supporter said.
"They're gonna complain you're not holding her up from the sides. Do you sis," someone else remarked. "This is adorable af."
"Yes @kimkardashain because you know they were about to slam you for sitting that baby up there," one person added. "Beautiful babies."
But if you're concerned about Kardashian's feelings, don't be. Kardashian has learned how to cope with the negativity throughout the years, and she's now well-versed in the art of acceptance. She revealed, according to the Daily Mail:
When I had my KKW Fragrance KIMOJI Hearts launch, I sent some of my haters the new perfumes. It was my way of saying they can talk sh*t about me if they want, but I'm going to keep doing me ... My advice for anyone dealing with haters is to just keep pushing through. If you let people bring you down, it's harder to focus on your goals. Just do you and don't give in to the negativity.
Additionally, Kardashian doesn't pay attention to Google alerts about herself like she used to do.
Overall, it sounds like Kardashian has reached a healthy place where it concerns mom-shaming. Although it probably frustrates Kardashian that she has to anticipate criticism, at least she knows how to handle it these days. Keep doing you, momma.