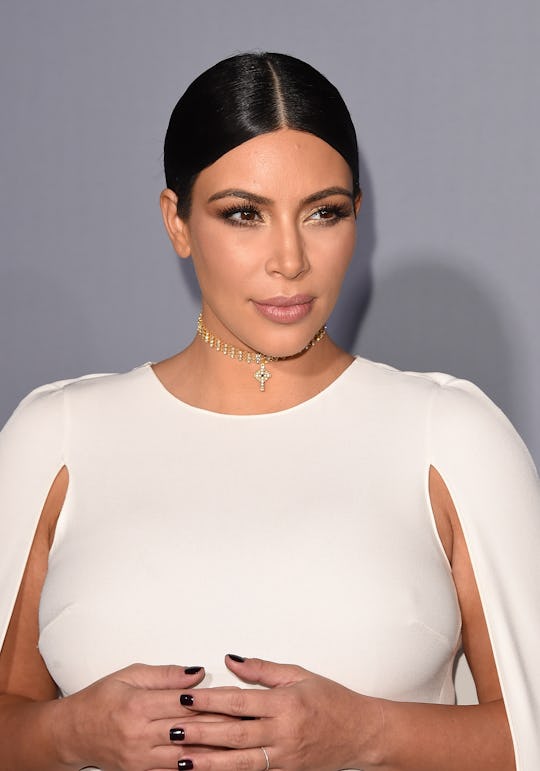 Kim Kardashian Dressed As Posh Spice In High School Is All Of Us Dressed As Posh Spice In High School — PHOTO
There's a reason why Kim Kardashian is so famous. And, no, it's not because of her sex tape, and it's not because she's managed to capture the news cycle with her many high-profile relationships (and marriages). No, the reason Kardashian is so famous is because the Keeping Up With The Kardashians star is so damn relatable. And, yes, I'm saying that despite the fact that I have never had a sex tape, and have never dated one of the most successful rappers on the planet. But Kardashian and I do have one thing in common, as it turns out — we've both dressed like the Spice Girls. And you've got to see Kim Kardashian dressed as Posh Spice.
On Thursday — when Kardashian was hanging out with her entire reunited clan (Caitlyn and all!) — the celebrity took the chance to share what she's thankful for this year. And any fan of Kardashian would be thankful in response. Because the photos of the star as Posh Spice in high school(!) look way too similar to your attempts to dress as the British pop stars in junior high school. You remember — the photos that are equal parts hilarious and equal parts humiliating.
Luckily, Kardashian has no shame sharing that hilarious humiliation. Wrote Kardashian on Instagram: "I'm so Thankful that me & my friends were the Spice Girls for our high school talent show! The Spice Girls got me through a lot! #ForeverThankful":
Continued Kardashian: "I'm also thankful for Posh Spice! #HighSchoolTalentShow":
Viva Forever, Kardashian's Instagram.
Images: Jason Merritt/Getty