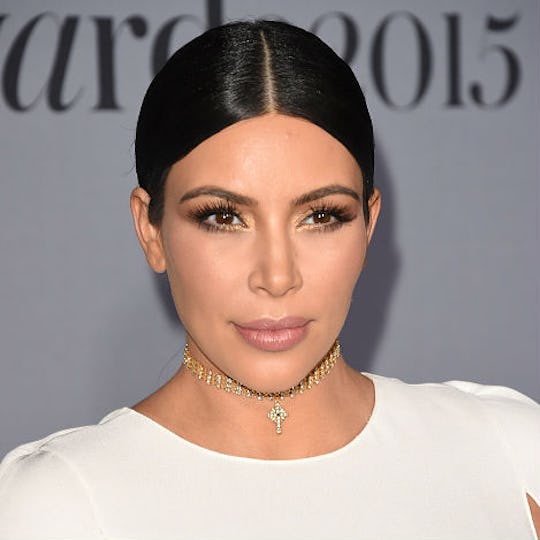 Kim Kardashian Emojis Arrive Tomorrow & The World Is Ridiculously Excited
Keeping Up with the Kardashians fans, ready your keyboards — Kim Kardashian emojis hit phones tomorrow. The Kimoji app will give you all of your favorite Kim-related emojis to use when you find yourself wondering "What Would Kim Do?" From well-manicured middle fingers, to Internet-breaking butts, to classic crying Kim, there is a Kardashian-themed emoji for every situation. And since Kardashian just reached 55 million followers on Instagram, I'd bet any amount of money that they'll all be sending messages, snaps, and updates with their own Kimojis soon enough.
Kardashian released a sneak peek of the Kimoji package on Instagram Sunday, which included a contoured face and a butt-facing selfie (or is that belfie? Not quite sure.) It's not her only accomplishment of late — Kardashian gave birth to son Saint on Dec. 5 and, before that, was killing it with candid pregnancy postser blog. Kimojis? Just another day for Kardashian. And this isn't her first foray into the technological world. In 2014, the reality star partnered with Glu Mobile to release a role-playing game in which players work to increase their celebrity and earn a coveted spot on Hollywood's A-List. Kimojis is just another way Kardashian is giving back to the smartphone world.
Khloe Kardashian weighed in to express her excitement at the news:
While I (briefly) predicted that by tomorrow, the entire Kardashian clan would be texting and tweeting with their own Kimoji replicas, it turns out that's not in Kim Kardashian's plans. "I don't want any family members in it," she told Rolling Stone in July. They'll all want a piece." (I'm willing to bet we'll still see some Yeezy, North, and Saint emojis though.)
Speaking of kids, any expectant mothers out there will find a little Kimoji support, too. When discussing possible Kimojis with Rolling Stone — while still pregnant with Saint — she tacked on, "And oh, a pregnant belly. I can't believe I didn't think of that."
As for the emojis that don't focus on people? "I wanted to do really fun, different emojis that you don't see on your phone," she said. "A Speedo doesn't mean anything to me. Same with disco-ball earrings." Instead, she wants to see a fur bikini, a pink dress, and signature lips a la Kylie Jenner. And if Kim Kardashian wants Kimojis personalized to her life, let's be honest — Kim Kardashian has both the cash and the following to be able to launch her own keyboard.
There's no word yet on the app's platform, but it will likely be available through the Apple App Store, though fans everywhere are raring for the app's release.
Needless to say, the world is ready to see the full range of Kimojis when the app goes live tomorrow. The only question is — can people use them in work emails? And will Apple stop auto-correcting "Kimojis" to "Kimonos" once the app is released? Only time will tell.
Images: Jason Merritt/Getty; Kim Kardashian/Instagram.