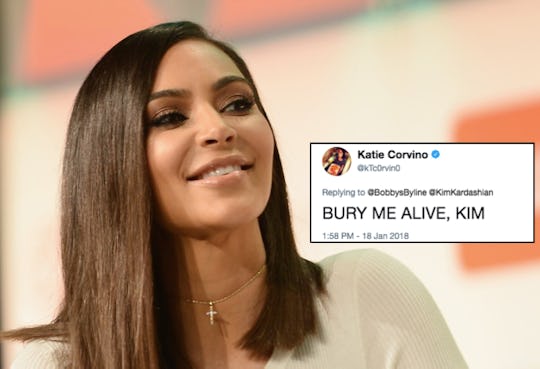 Matt Winkelmeyer/Getty Images Entertainment/Getty Images
Kim K Epically Burns Lamar Odom After Slamming Khloé & Twitter Is Absolutely Losing It
Listen, no matter what happens in life, sisters will stick together and stick up for each other when need be. Whether or not two women are related by blood, or by deep friendship, they will always be there for each other. A perfect example of this has just happened, now that Kim Kardashian just epically burned Lamar Odom's interview about his marriage to her sister, Khloé Kardashian, and oh man... it'll make your jaw drop.
In case you missed it, Odom gave a pretty explosive interview to BET's The Mancave, in which he discussed his relationship with ex-wife Khloé. Previously, Odom has had nothing but nice things to say about Khloé and their marriage, but for some reason that all changed when he made a joke that Khloé has an alleged tendency to date basketball players.
"I still got my shawty's name still on me, her initials still on me," the 38-year-old retired Los Angeles Laker said, according to Page Six. "But for no reason. You know what I'm saying? I understand when it's over, it's over. When she was with her second or third NBA ball player, I could see that."
Although it appears that Odom may have been joking, Khloé's older sister, Kim, didn't see it that way and shut it down right quick. In a tweet quoting Odom's remarks, Kim simply wrote "or second or third brothel." I'm guessing Odom might be looking for an ice pack right about now for that epic burn.
Romper has reached out to Odom's representative for a comment regarding his interview as well as Kardashian's tweet on Thursday, but did not receive an immediate response.
Now, Odom's interview also featured him praising Khloe and wishing her nothing but good luck. "I'm happy for her," he said, according to Us Weekly. "She took care of me. She'll be a good mother, for real. She's a great woman." But that didn't stop Kim from sticking up for her little sister, and the internet definitely seems to appreciate her for that. Seriously, the responses to Kim's tweet are almost as awesome as the tweet itself.
Even Chrissy Teigen got in on the action.
Now, if you're a bit confused as to what brothels Kim is referring to, allow me to refresh your memory. Back in 2015, Odom was found unconscious at a brothel and he was put in the hospital for overdosing. At the time, Khloe stayed with Odom through his hospital stay, even though she had already filed for divorce.
But beyond the brothel where Odom was found, he was also rumored to have allegedly visited plenty more, which is where Kim's tweet comes in. Clearly, she won't let her sister's good name be dragged by anyone. And again, the Twitterverse is perfectly OK with that.
Now, Odom's claim that Khloe dated a lot of basketball players isn't without its basis, either. Although a woman's dating history has absolutely nothing to do with who she is as a person and should never be used against her, Khloe has dated Odom, James Harden, and Tristan Thompson. But again, that shouldn't matter to anyone, because Khloe is a grown woman who can do what she wants.
And that's probably why Kim's tweet has made people so happy.
Right now, Khloe is pregnant with her first child with boyfriend Thompson, and that's all she should be focusing on, not what an ex says about her. At the end of the day, Khloe is preparing to become a mom, and she clearly has a pretty great support system by her side. I mean, I'd be pretty grateful if I had a sister like Kim, wouldn't you?
Check out Romper's new video series, Romper's Doula Diaries:
Watch full episodes of Romper's Doula Diaries on Facebook Watch.