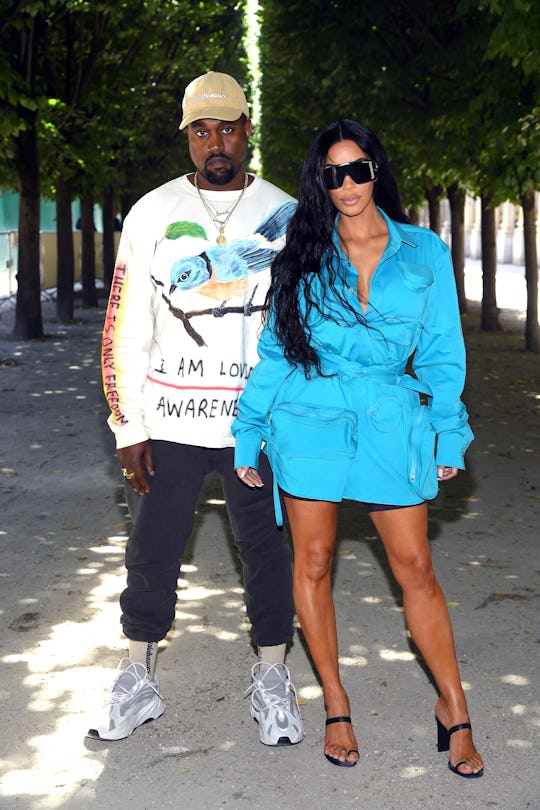 Pascal Le Segretain/Getty Images Entertainment/Getty Images
Kim Kardashian Grabbed These Important Things When She Evacuated Her Home
It's hard to imagine the prospect of an incoming wildfire that could potentially burn through your entire home, but that was reality for many Californians this week, including some celebrities who have been particularly outspoken about the horrific natural disaster. For example, Kim Kardashian had to evacuate her home due to the fires and recently opened up about taking only a handful of meaningful and important things with her.
Kardashian and a few of her sisters found themselves in the direct path of the California wildfires this week, and in preparing for the worst, decided to evacuate their homes. However, they did not leave without securing a few of their most prized possessions, as Variety reported on Thursday. As Kardashian told the magazine, they ultimately ended up with only an hour to totally evacuate their house, so they grabbed their computers, a hard drive with digital files of photos and videos, the kid's blankets, Kardashian's childhood blanket that her grandmother made her, and other things you "can't really replace."
"All the other stuff doesn't really matter," she continued, according to Variety, before adding that the West family would not yet be returning to their home, which is still mostly intact. "It's smoky and my son has a little bit of asthma so it's not really safe for him to go back," she explained to the publication.
In the days since the fire began, many people have banded together in an effort to either help each other evacuate, donate, or even just voice support for those going through such a difficult time.
However, President Donald Trump was not amongst those immediately praising first responders or sending well wishes to those who had to evacuate and/or lost their homes due to the fires. Instead, CNN reported that he attributed the natural disaster to "gross mismanagement" of the funds given to the state each year.
"There is no reason for these massive, deadly and costly forest fires in California except that forest management is so poor," Trump tweeted. "Billions of dollars are given each year, with so many lives lost, all because of gross mismanagement of the forests. Remedy now, or no more Fed payments!"
However, Kardashian told Variety in the aforementioned interview that her husband actually sent a text to people close to Trump himself, disapproving of the statements. "When he doesn't agree with something like that fire comment he will screengrab [and] he will send it to the people close to [Trump] and say that maybe there should be a little more empathy in this," she explained.
It's refreshing to hear that people like Kim Kardashian and Kanye West are using their celebrity status to issue calls to action and call out nonsense when they see it, especially when it involves such a heartbreaking disaster as the California wildfires currently ravaging through areas of the state.
Though money can replace some things, and the Kardashians sure have a lot of it, certain mementos and treasures can't. And it's in moments like these that you're reminded of what really and truly matters.