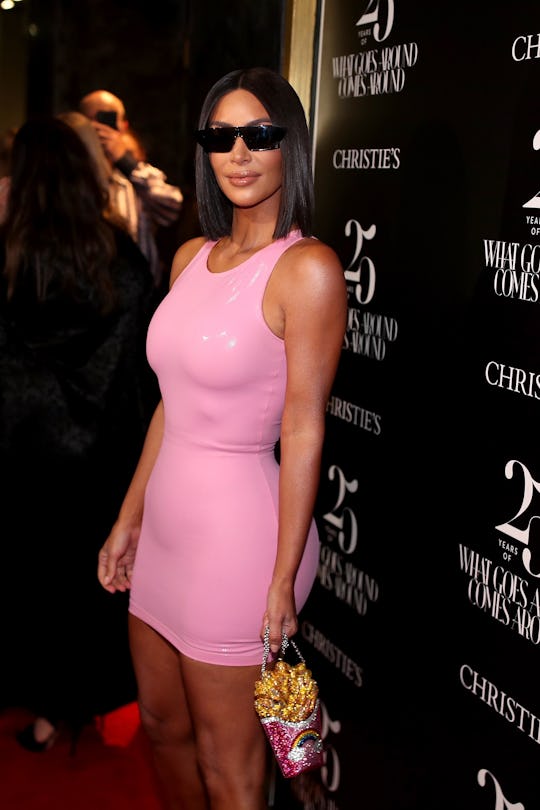 Christopher Polk/Getty Images Entertainment/Getty Images
Kim Kardashian Is Fighting For Another Non-Violent Offender's Prison Release
Earlier this year, Kim Kardashian emerged in a very unexpected new role: prison reform advocate. The reality star made headlines after meeting with President Donald Trump and his advisor son-in-law, Jared Kushner, on behalf of Alice Marie Johnson, a 62-year-old woman who had been serving a life sentence without parole for a first-time, non-violent, drug offense, and the meeting was so successful (the president commuted Johnson's sentence in June, according to The New York Post), that now, Kim Kardashian is fighting to have another non-violent drug offender released from prison.
On Wednesday, Kardashian appeared on Jason Flom's podcast, Wrongful Conviction, according to Page Six, and explained that she'd recently been in touch with 30-year-old Chris Young, who was sentenced in 2010 to life in prison without parole after he'd been arrested for possession of marijuana and cocaine. Kardashian called the decision "so unfair," and explained that it all came down to mandatory drug sentencing — regulations critics argue are not just overly harsh, but also ineffective and inappropriate. But it sounds like she's not the only one who feels Young had been treated unfairly: Kardashian said she and her legal team were working with former Tennessee Judge Kevin Sharp, who sentenced Young to life, and who ultimately resigned after disagreeing with the mandatory-sentencing law.
Though Young has already spent nearly a decade behind bars, his new connection to Kardashian should be leaving him pretty optimistic: the reality star explained that she has an ongoing relationship with both Kushner and the president, and given that she was able to assist Johnson because of it, it seems pretty likely she'll be able to do the same for Young. In fact, Kardashian revealed that Ivanka Trump, the president's daughter and adviser, was actually the first person she called when it came to figuring out how to get Johnson released from prison. She said, "I figured Ivanka would totally understand and feel the same thing that I felt. So, my first call was to Ivanka."
In a sit-down interview with Mic in May, Kardashian said she'd "do whatever it takes to get [Johnson] out," and explained that she felt strongly that first-time, non-violent offenders like Johnson definitely deserved a second chance. And though Kardashian might not spring to most people's mind as someone who would feel passionately about criminal justice issues, she told Mic that she saw it as her way to use her status and wealth to give back and do some good in the world. She said,
I mean, in all honesty, how I felt [was that] to go and spend my money buying material things just doesn't satisfy me the way that it used to. I'm just in a different place in my life, so I thought, 'Well, if I could put the money into a shopping spree' — which sounds ridiculous — 'to save someone's life, and do that once a year, then that would make ... my heart fuller.'
In a joint interview with Johnson following her release, Kardashian explained to TODAY's Hoda Kotb that though it took months to actually get to the point where she was able to meet with the president, things moved pretty quickly once she did. She said,
We spoke about Alice, and I explained to [Trump] where I found her, why I believe in her, how people deserve second chances. And ... the president had compassion for her right away, he felt that it was the right thing to do.
Only one week later, Johnson was released after spending more than 20 years in prison, and she told Kotb that Kardashian was actually the one to give her the incredible news. Johnson said,
I believe she said ... 'you can go home now, are you ready to go home?' When she said that, I went into full-fledged, Pentacostal holy dance. I started screaming and jumping. People were listening, I'm telling you, I was dancing, I was jumping, I was screaming. I was doing everything.
It certainly sounds like Kardashian's high-profile involvement had a profound impact on the outcome of Johnson's case. And while it's definitely not a given that Young will also end up seeing his sentenced commuted, the fact that the star seems to have already captured the ear of the president and his closest advisors definitely seems like a promising sign.