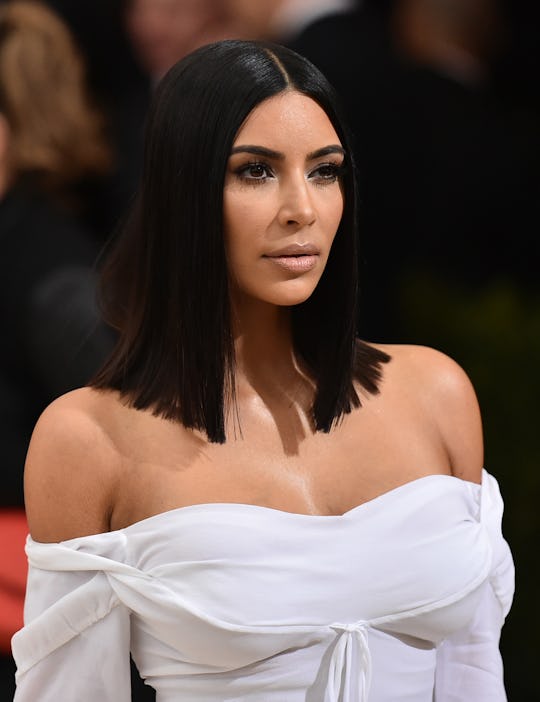 Mike Coppola/Getty Images Entertainment/Getty Images
Kim Kardashian & Kanye West Baby No. 3 Memes Show Fans Were So Ready For This
It finally happened, Kardashian fans. Kim Kardashian and Kanye West welcomed baby no. 3 on Monday with the help of a surrogate, and their family grew by one little girl. Of course, the internet being the internet, there are already some great memes about Kim and Kanye's third baby out there, because people need a way to cope in the face of all the recent Kardashian baby news, and what better way than with humor?
Kim announced the birth of her daughter on her website. The statement included the baby's birthday, along with her weight and time of birth — 7 pounds, 6 ounces, at 12:47 a.m. The rest of the post included a statement, which read:
Kanye and I are happy to announce the arrival of our healthy, beautiful baby girl. We are incredibly grateful to our surrogate who made our dreams come true with the greatest gift one could give and to our wonderful doctors and nurses for their special care. North and Saint are especially thrilled to welcome their baby sister.
Kim confirmed the sex of the baby in November on The Ellen DeGeneres Show, so the fact that the new addition is a girl isn't a surprise to fans. But an exact due date or a name were not revealed to the public, and every little detail about each of the recent Kardashian pregnancies always sets off fans on social media. The birth of Kim and Kanye's daughter is of course no exception.
Recently, rumors flew that Kim's sister, Kylie Jenner, was in labor with a baby she hasn't even officially confirmed the existence of yet. So some of the memes on Twitter focused on the fact that while everyone was focused on that possibility, Kim's baby was born instead. Not even Mom-ager Kris Jenner could have planned that bait-and-switch better.
Some of the memes definitely made mention of Kris, though, and the scheming some think she may be doing behind the scenes of Keeping Up With the Kardashians thanks to the arrivals of the newest members of the family.
Other social media users who are apparently not fans of the Kardashian and Jenner families were less than impressed by news of the birth of Kim's third child, and made that fact known through the use of funny GIFs.
But most people seemed pretty excited by the news, and all the possibilities for this new baby girl. Like, just how long are fans going to have to wait for that cover story with an adorable photo of the whole Kardashian West family all together?
But even some Keeping Up With the Kardashians fans have no time for the latest news about Kim and her family — they wanna know what the deal is with Kylie, already.
Kim and Kanye have arguably been the most open for the longest amount of time about this Kardashian family pregnancy, even though they kept a lot of the details quiet. After months of speculation, fans also know for sure that Khloé Kardashian is pregnant. But no one is quite sure what the situation is with Kim and Khloé's sister, Kylie. Is she pregnant or not?
But while some fans sit around and continue to speculate about Kylie possibly having a baby, Kim and Kanye and their family get to enjoy their brand new baby girl, and there were still plenty of people on social media who were excited for the family.
It's a little unfortunate that their big news is sort of overshadowed by rumors about another KarJenner family member, but the sisters are probably pretty used to trading off on being the focus of entertainment news.
Now, even though fans know a new Kardashian baby has joined the family at last, they still don't know some pretty important details. Kim and Kanye didn't release a name on Tuesday, for example. That should keep fans talking about this newest Kardashian development for a little while, anyway.
And no matter what comes next in the world of Kardashian/Jenner news, one thing is for certain: the internet will almost definitely not disappoint when it comes to the reactionary memes, no matter who's pregnant, or gives birth, or whatever happens next for this infamous reality TV show family.
Check out Romper's new video series, Romper's Doula Diaries:
Watch full episodes of Romper's Doula Diaries on Facebook Watch.