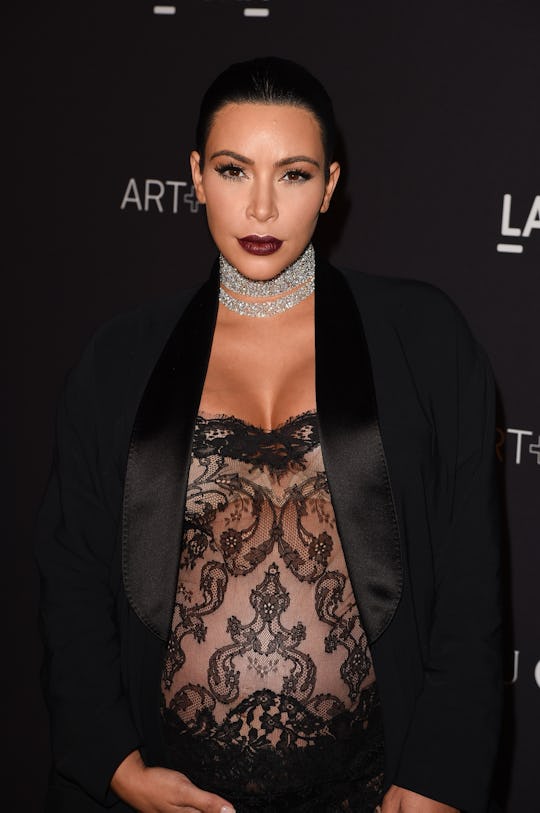 Jason Merritt/Getty Images
Kim Kardashian May Give Birth Sooner Than Expected, So Christmas May Come Early After All — REPORT
Kim Kardashian may have an additional reason to be thankful this November. Us Weekly reports that Kardashian is planning to give birth around Thanksgiving, which is way earlier than that Christmas Day due date we'd heard swirling around. According to a source close to Kardashian, the reality star's alleged decision to induce labor sooner rather than later was influenced by her high-risk pregnancy.
Kardashian faced some major challenges during the birth of her first child, North West, in 2013. In a recent blog post on her website, Kardashian mentions that preeclampsia forced her to deliver six weeks before her due date. When the placenta didn't come out after birth — a serious condition termed placenta accreta — Kardashian's doctor had to manually remove it. "My mom was crying; she had never seen anything like this before," writes Kardashian. "My delivery was fairly easy, but then going through that — it was the most painful experience of my life!" After two surgeries — one to remove the rest of the placenta, another to get rid of scar tissue — Kardashian says she was finally able to conceive again.
Despite overcoming the health challenges of her first pregnancy, Kardashian still faces concerns as she prepares for her son's arrival. She's at an increased risk for both conditions she faced in 2013, potentially influencing her decision to induce early. "In a very rare case, I might need a hysterectomy after delivery if my condition is severe enough, but luckily my doctor doesn't think this will happen," she writes.
Hopefully, Kardashian will have a much smoother delivery this time around. One thing's for sure — no matter when the little guy arrives, fans are gonna be psyched.
Image: Jason Merritt/Getty Images