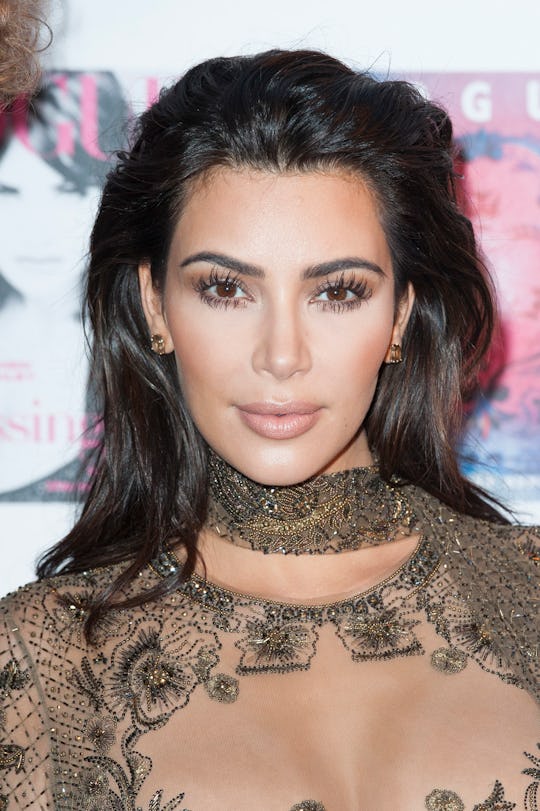 Jeff Spicer/Getty Images Entertainment/Getty Images
Kim Kardashian & North Face Swapped On Snapchat, & It Was Totally Accurate
Even though social media app Snapchat's Face Swap feature can sometimes lead to some seriously weird results, when Kim Kardashian and North Face Swapped on Snapchat, it actually seemed totally fitting — with Kim's superimposed face, North looked like a real-life Kim K throwback. According to Us Weekly, Kardashian posted the funny clip to her Snapchat account on Sunday, and honestly, it was super cute.
While North West didn't seem particularly impressed by the swap, her mom appeared totally intrigued by how similar North looked to herself when she was a child. She said,
You look like a little Armenian girl. Did you know that? You look like me before I lasered off my baby hairs.
According to the Daily Mail, Kardashian revealed on her website back in April that years before, she paid to have laser hair removal around her hairline and neck, and that she now wished she hadn't:
My forehead had all these little baby hairs, and I would always break out because of them. Every photographer would Photoshop them out anyway, and I thought I looked better without the baby hairs, but now I miss them.
The cute mother-daughter clip is a far cry from little North's first attempt at Snapchat — according to E! News, a week after Kardashian first joined, she posted a video of herself trying to convince her daughter to join her in the shot, but North refused, saying she was afraid of "snapchap." She's clearly warmed up to the idea though, because North has made quite a few fun Snapchat appearances with her mom lately, trying out all sorts of filters, like puppy dog and kitten faces, flower crowns, and one where it looks like she's wearing glittery makeup.
Pretty sure a Kanye/Saint face swap is needed next (no matter how unlikely that might actually be).