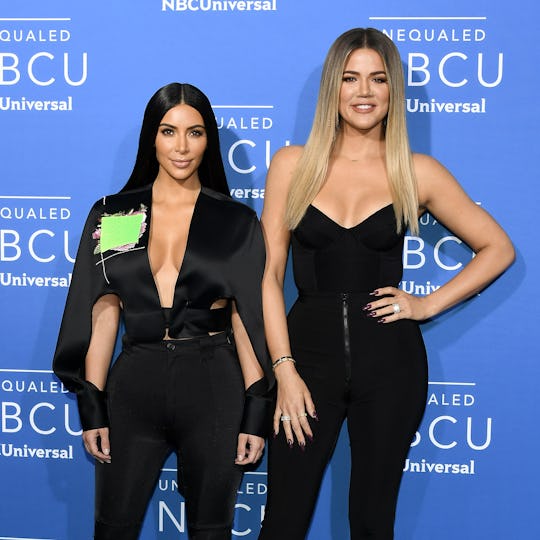 Dia Dipasupil/Getty Images Entertainment/Getty Images
Kim Kardashian West May Actually Support Khloe Staying With Tristan Thompson
By now, most fans of Keeping Up With the Kardashians are likely aware of the allegations that Tristan Thompson cheated on Khloé Kardashian while she was pregnant with their daughter. And initially, her sister Kim Kardashian West clearly did not approve of Thompson, going as far as to say the situation was "so f*cked up." But now, Kim Kardashian seems to support her sister Khloé for deciding to stick by Tristan Thompson, at least according to some comments she made on Thursday.
Back in April, a video allegedly showed Khloé's boyfriend, and the father of her daughter, cheating on her while she was pregnant, according to The Daily Mail. There's always a chance that the figure in the video wasn't Thompson, but there have been enough comments from the Kardashian/Jenner camp to imply that something definitely went down between Khloé and Thompson not long before Khloé had her baby.
Neither Kardashian nor Thompson's reps have confirmed the allegations about Thompson cheating to Romper, or responded to Romper's requests for comment on the allegations.
In late April, Kim was a guest on an episode of The Ellen DeGeneres Show, where she addressed the cheating allegations. At that time, she said to Ellen, according to E! News:
Like I don't even know how to describe it besides it's just so f*cked up.
She later added:
We really were rooting for Khloe, and we still are...you know, she's so strong and she's doing the best that she can. It's a really sad situation all over.
But in recent months, there have been a lot of signs that Khloé decided to stay with Thompson, in spite of any alleged cheating. They've been seen together since the birth of True, and Khloé has been living in Cleveland, where Thompson plays basketball for the Cleveland Cavaliers.
However, Khloé's mom, Kris Jenner, told Us Weekly in June that her daughter was going to move back to California, so who knows what the situation is with Khloé, Thompson, and True any more.
In the midst of all of this, fans have been wondering how all the Kardashians and Jenners feel about Khloé and Thompson's relationship. And Kim may have just hinted that she supports Khloé's choice to continue with it, even if she didn't seem all that thrilled at first.
When she phoned into On Air With Ryan Seacrest on Thursday, August 2, Kim discussed the alleged cheating scandal and how she feels about the situation. She said, according to the show's iHeart website:
It was definitely new territory for us when you have a new baby coming into the world. I think ultimately we always want her to be happy, but it gets all clouded when there's a baby and, you know? Her motherly instincts kicked in and she has to do what makes her happy so we'll support that.
Although supporting what makes your sister happy isn't exactly the same thing as supporting the relationship, Kim's response was still a little more positive than it seemed back when news of the possible scandal first broke.
Back in June, a source told People that Khloé's family knew she planned to stay with Thompson, and that things had remained "civil." The source told the outlet, "They still have opinions about Tristan's bad behavior, of course, but no one wants to upset Khloé."
Ultimately, Kim may just want to be there for her sister no matter what she decides about her relationship, even if she has feelings about the person she's in a relationship with. That's something a lot of people have to deal with when it comes to their family members or friends, and in this way, at least, the Kardashians may be just like the rest of us.