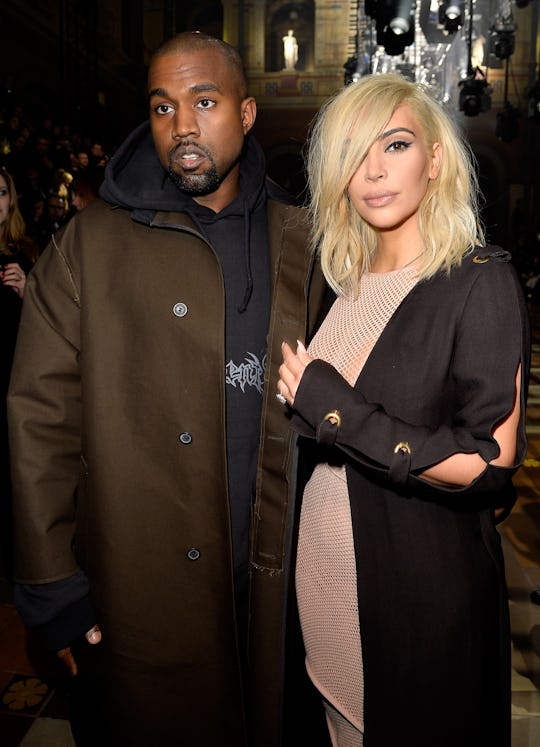 Pascal Le Segretain/Getty Images Entertainment/Getty Images
Kim Kardashian Also Struggles With Balancing Her Attention Between Her Kids & Husband
As a mom of three kids under the age of 5, Kim Kardashian understands how much attention each kid requires and deserves. On top of this, she's married to rapper Kanye West. On the newest episode of Keeping Up With The Kardashians this Sunday, Kim Kardashian opened up about struggling to balance her attention between her three kids and her husband. And while circumstances are certainly different for the Kardashian-West family, this revelation is something every busy mom can relate to.
Most people might feel like there are never enough hours in the day to do everything you want and need to, and for many parents, this includes spending quality time with partners and kids. After welcoming daughter, Chicago, into the world through a surrogate in January, Kardashian said on a recent episode of KUWTK that it's been hard for her to divide her attention between all of her kids, as reported by People. In addition to taking care of her newborn, Kardashian is also balancing her time with 5-year-old daughter North and 2-year-old son Saint, as noted by People. With all these adorable kids wanting her undivided attention, Kardashian has struggled with being a mom to three kids for a while, calling it "crazy" on KUWTK.
"I remember it was really hard for North when Saint was born, so I kind of put everything into North to make her extra special," Kardashian said on KUWTK this past Sunday. "And now, with Chicago, I'm trying to work even [harder] to make sure North and Saint feel like they have enough time with me and they feel super loved and no one is going to take their place."
On top of this struggle, viewers watched Kardashian talk about having (tiny) arguments with West about her Instagram feed and finding the right color of bandaid for him to wear, as noted by People. Hey, no one said parenting (or marriage) was easy.
According to Entertainment Tonight, Kardashian said during the episode of KUWTK:
When you have three kids it's kind of a wild household. I'm kind of annoyed because I wish he would understand that I'm exhausted. Like, go get your own band-aid.
Other couples can surely understand this struggle. Although Kardashian and West's experiences and circumstances are very unique to them, at the end of the day, it's natural for all moms to feel torn between spending time with their kids and with their partners.
While women are more likely to document their stress, according to The Atlantic, husbands are more likely to be stressed by "managing household decisions" and "prioritizing the needs of family members." Anyone who has observed West's rants on Instagram and watched Kardashian on an episode of KUWTK knows that these roles are reversed for the couple — but that doesn't make them any less significant. At the end of the day, both of them can be stressed.
So how can this be managed? When husbands help out their wives with their kids and household chores, both parties turn out to be happier, according to The Telegraph. Although this might seem like a no-brainer, it's easy for women to fall into "maternal gatekeeping," or shutting their husbands out of taking care of their kids because they know they can do a better job, according to CNN. The more gatekeeping a woman does with her kids, the less involved the dad will be.
In addition to splitting up tasks evenly, date night is important for couples, according to The Washington Post. Researchers have found that couples who go out monthly are less likely to break up, according to the Daily Mail, and it's simple to see why it helps. For just a few hours, parents are focusing on just each other, not their kids, even when their lives revolve around their children's schedules.
Women should never have to feel like they're choosing their kids over their husband — and vice versa. Instead, according to YourTango, both should require equal attention, and there is more than enough love and attention to go around. But it's likely that Kardashian has heard this before — this isn't the first time that she has talked about splitting her attention. In the March 2018 issue of ELLE, Kardashian wrote that her "time is spread really thin," according to Entertainment Tonight.
"I think it's important that in all couples, the mom gives the husband as much attention as the kids," Kardashian said in March.
But on Sunday's episode of KUWTK, Kardashian found the perfect solution for her and her husband — for her to take some time and slow down. Kardashian said in the episode, according to People:
Kanye is so thoughtful and even when he's in crazy work mode he always takes the time to check in on me, see what's going on. And I think when I get in super busy mode, I need to just slow down and be a bit more thoughtful. I think I've definitely gotten better at this.
If other moms are struggling with this, they can also take a note from Kardashian's book and slow down. This allows her to observe her world around her and take the time to focus on every one of her kids and her husband.
Although Kardashian and West's arguments are unique to them, their disagreements come down to needing to divide their time between each other and their kids. And at the end of the day, every parent has dealt with this struggle.