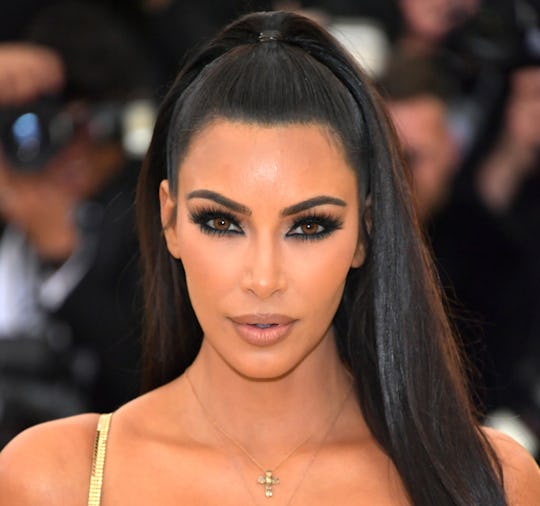 Neilson Barnard/Getty Images Entertainment/Getty Images
Kim Kardashian Opens Up About Whether Or Not She Would Ever Use A Surrogate Again
Kim Kardashian West may be one of the most famous faces when it comes to surrogacy, and she's not afraid to speak up about her experience with it. Kardashian spoke out about whether she'll have another child via surrogate on Friday, and I have to say, her honesty about the whole thing is super refreshing!
If you keep up with the Kardashians at all, you're probably aware that Kim and her husband, entertainer Kanye West, decided to choose a surrogate to carry their third child. For months, speculation swirled that Kim was expecting her third baby, but she didn't confirm the news until she posted a video on Twitter teasing the upcoming season of Keeping Up with the Kardashians in September 2017, according to WJLA. In a clip, Kim confirmed to her sister, Khloé, that she was expecting again... and the rest is history.
For Kim, the decision to use a surrogate to welcome her third child had to do with her health. But people choose surrogacy for all sorts of reasons, and it can sometimes be difficult to justify those reasons to other people. The topic of surrogacy has definitely gained some traction thanks to Kim and her experience with it, and now she's opened up about whether or not she'd choose to go through it again.
On Friday's episode of Live with Kelly and Ryan, Kim talked about the surrogacy process, and how positive the whole situation was for her. She even said she would opt to have another baby via surrogacy in the future, because it was such a great experience. She said, according to PEOPLE:
I would have maybe one more [child].
I really, really enjoyed the surrogacy process. I will say, when it came to the breastfeeding time, I was like, 'Okay, this is the best decision I ever made.'
And a lot of moms who have struggled with breastfeeding — and the decision of whether or not to do it in the first place — can probably relate to that last comment. It's not even that Kim just flat out hated breastfeeding — she had her reasons for being happy she didn't have to deal with it with her daughter, Chicago West. She continued, according to PEOPLE:
It's a game changer, having to not go through [nursing] every few hours. I can spend so much more time with the older kids and getting them used to the baby.
Which seems like a pretty legit priority, if you ask me.
That doesn't mean the road to meeting her baby via surrogate was always smooth for Kim. She explained in a blog post on her website in January that she chose surrogacy for health reasons, and said, according to Us Weekly:
I have always been really honest about my struggles with pregnancy. Preeclampsia and placenta accreta are high-risk conditions, so when I wanted to have a third baby, doctors said that it wasn't safe for my — or the baby's — health to carry on my own. After exploring many options, Kanye and I decided to use a gestational carrier.
After making that choice, her struggles with the process didn't just end. Kim continued, according to Us Weekly:
Having a gestational carrier is definitely different, but anyone who says or thinks it's the easy way out is completely wrong. People assume it's better because you don't have to deal with the physical changes, pain or complications with delivery, but for me it was so hard to not carry my own child, especially after I carried North and Saint.
After reading how much Kim struggled with the decision before and throughout the pregnancy, it's really wonderful to see that she looks back on it positively now, and would even choose to do it again.
Kim's honesty about the whole process is definitely refreshing, but it's also very important. There's still a lot of stigma surrounding surrogacy, and whatever you may think of Kim or the rest of the Kardashians, the fact that such a high profile figure went through the process in a pretty public way and is so honest about how it worked for her family is really great for other families too.
People choose surrogacy to expand their family, or choose to be surrogates, for many reasons. Sometimes they're health-related. Sometimes the couple looking to expand their family is a male LGBT couple who would rather go with surrogacy than adoption or another process. Any safe, legal way to bring a child into a loving family should be welcomed, and the way Kim and Kanye did so with their third child is a great example for others.
Whether or not Kim will definitely have another baby, particularly using a surrogate, remains to be seen. But she seems really open to it, and really willing to talk about how great it was for her. That's the sort of positive attention the surrogacy process needs to reduce the stigma around it, and to make it so more people feel comfortable choosing surrogacy and being open about it themselves. I for one am totally cool with Kim continuing to be a great champion for surrogacy, especially if it can help other families.