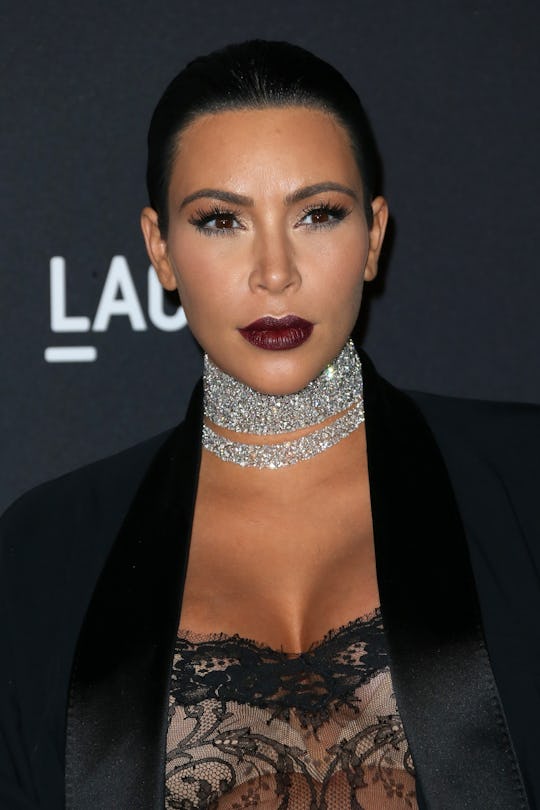 Frederick M. Brown/Getty Images Entertainment/Getty Images
Kim Kardashian Posted A Nude Selfie On Instagram, & It's Important For This One Reason
Kim Kardashian West might have just given birth to baby Saint just a short three months ago, but the 35-year-old mother of two apparently wants the world to know she's still very much herself. In order to prove the point, Kim Kardashian Instagrammed a nude selfie she took in a bathroom mirror looking every bit the personality we've come to know and love. I mean, girl looks good. She's even not a new bleach blonde 'do to go along with that bod.
The caption on the image is predictably playful, "When you're like I have nothing to wear LOL," she wrote on the Instagram. But the real statement Kardashian is making in the nude photo is an important one for mothers everywhere. Because women with kids, especially new moms, know all too well that once you pop out a kid, your body ceases to feel like it's entirely your own. Sure, it's just given life to a baby and that's a huge deal, but it's the rest of society that really claims ownership of your whole self. From strangers touching your belly out of nowhere during pregnancy, to everyone in your social circle feeling completely comfortable telling you the "right" and "wrong" things to do with your body after having a baby, it can easily start to feel life you stopped being the self possessed woman you were just a few short months ago, before you transformed into a "mother."
Kardahian has always been free about her body and her sexuality. Whether or not it was by choice, a sex tape was "how I was introduced to the world," she told Oprah, according to People, and more recently she "broke the Internet" with her naked Paper magazine cover in 2014 and the occasional body-flaunting Instagram post. Her attitude about showing skin might not be everyone's cup of tea, and that's just fine. What's refreshing is to see a woman in the public eye holding onto the person she was before she became "mom" and celebrating it.
Sure, most moms didn't do quite as many bikini photo shoots as Kardashian before babies. But every woman faces having to conform in a variety ways in the process of having a baby. And there's plenty about that transformation that has to do with the changes happening to your body, from hormones to weight gain. But how much any woman changes, or feels like she should, has a lot to do with what society tells us a mom should be: a cranky, messy-haired, yoga-pants-wearing martyr to devotes every moment of her life to diapers and laundry. How depressing.
Well, Kardashian is a mom and evidently feels super hot at the same time, and she's happy to let the world take a peek.
Some of the reactions to the photo, in which Kardashian appears naked except for a couple of superimposed black bars, were predictably negative. More than a few of those came from people who evidently think looking hot as hell naked and showing that to her mind blowing 60 million followers isn't the way a mother should behave.
One of her followers commented "You are a mother," _mrlj_ wrote. "You have no self respect. Smh wonder how she feel if North was to post a pic like this when she's older."
Something tells me that when North grows up, her mom is going to make sure she knows that it is her right, and her right alone, to make decisions about her body. I'm betting North will know that it's up to her to choose how much of it to display, based on how she feels, not whether someone on social media thinks she should be ashamed.
You go, Kim Kardashian. Because there's nothing hotter than a woman who knows exactly who she is and isn't afraid to show it. Your babies are lucky kids.