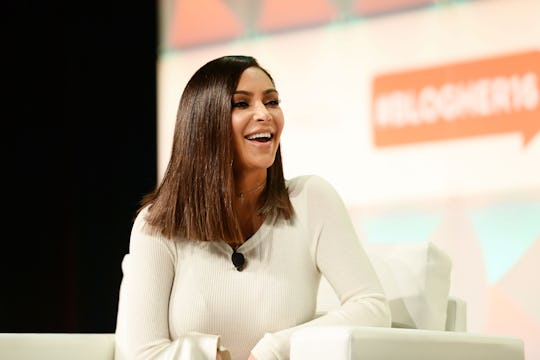 Matt Winkelmeyer/Getty Images Entertainment/Getty Images
Kim Kardashian Posts 2nd Instagram Since Robbery
Kim Kardashian's presence on the internet, and everywhere else for that matter, has often felt inescapable — in a good way. But since her robbery in Paris in October, Kardashian has been keeping a low profile, not posting to social media for months. On Wednesday, Kim Kardashian posts her second Instagram since the robbery, and it is much welcomed.
Since Tuesday, Kardashian has slowly been posting again to her social media accounts — including changing her Facebook profile picture and posting the sweetest video of her family to her website. On Tuesday, Kardashian posted to her Snapchat for one of the first time since the Paris robbery — showing off sweet and intimate videos of her family. Tuesday also marked the first day of Kardashian's return to Instagram, posting a photo of her husband rapper Kanye West, daughter North, and son Saint all dressed in white with the caption "family." In the pattern of showing off these sweet, tender moments with her family, Kardashian posted another personal photo to her Instagram on Wednesday. In the photo, Kardashian is seen squatting close to the floor with her arms around her son. Kardashian wears minimal makeup in the photo and looks truly at ease and happy at home being with her family that she loves.
Sister Khloé shared her New Years resolutions and hopes for 2017 on her personal app on Wednesday. In the post, Khloé revealed a little bit about her hopes for her sister for this new year:
I think with everything that has happened in Kim's life this year, she has really had to redefine her priorities. Time does heal and I think she's in a much better place now. So I just want her to focus on her family and her own happiness this year.
Judging by Kim's entrance back onto social media, it seems as if family will be a huge theme for the mom of two in 2017, given that it's been the only thing she has posted about since her return. After experiencing something so traumatic — her robbery in Paris, where, according to People, robbers held her at gunpoint and stole $10 million worth of jewelry — it only makes sense that Kim would want to be around the things that bring her comfort, like her family, and step back from the glaring public eye.
But with a new year comes a fresh start — and Kim's three month hiatus from social media seemed like a lifetime. Hopefully the new year will bring wonderful new things for Kim and her family. And hopefully it brings more super cute photos of her family, like the one she posted today.