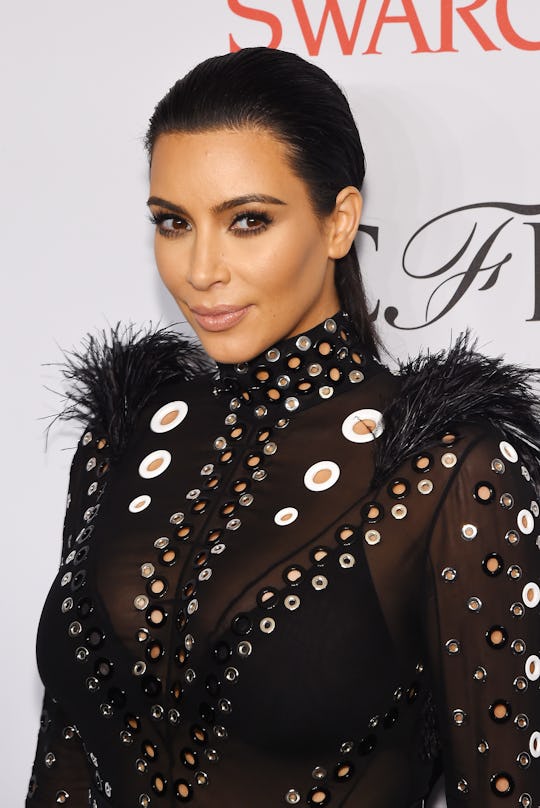 Larry Busacca/Getty Images Entertainment/Getty Images
Kim Kardashian Releases Another Photo Of Saint West & It's Everything
Are you ready for the cutest thing ever? Kim Kardashian released another photo of Saint West on Friday, and the little guy has somehow gotten even cuter since the last picture she graced fans with, showing off his adorable brown eyes and duckling-fluff hair. She captioned the shot, "You're the sun in my morning babe," which is a line from husband Kanye West's "Father Stretch My Hands, Pt. 1," off of The Life of Pablo, according to Cosmopolitan.
This is only the second photo Kardashian has shared of baby Saint so far, who was born in Dec. 2015. Kardashian first posted a picture of Saint on her late father Robert Kardashian's birthday. "Today is my dad's birthday. I know there's nothing more in the world he would have wanted than to meet his grandchildren. So I wanted to share this pic of Saint with you all," Kardashian wrote on her app and website, along with a picture of Saint sleeping in a cute onesie.
Kardashian, in her always-honest manner, has also been keeping fans in the loop about her experience with motherhood. In one post on parenting two children, published on her blog, Kardashian wrote, "My mom would always say, about having kids: 'One is like one, and two are like twenty.' I never really understood that until now."
It's been a busy year for little Saint West, too, seeing as he was billed as a creative consultant on his dad Kanye West's new album, according to E! News. (Don't worry, Saint's older sister North got a shout-out as well.) Between Kanye's cute tribute to his kids on the album and Kardashian's tribute to Kanye West in her picture of Saint, it seems like the family is doing well and enjoying life after West's album release in February. Kardashian has been dialing down work a little, enjoying North and Saint, and adjusting to having two children under the age of three.
"I've attempted to work a few times or enjoy our Christmas Eve party, but it's definitely been challenging feeding the baby in between getting myself ready and getting my daughter ready," she wrote on her website. "Being late and running behind gives me anxiety, but I know we will soon get into the perfect groove and just figure it out. My mom did, my sister did—and I will, too."
As she adjusts to her new parenting groove, we hope Kardashian posts a few more pictures of Saint — because he is absolutely adorable.